Well Grounded In The Magic City
Miami does urban farming its own way.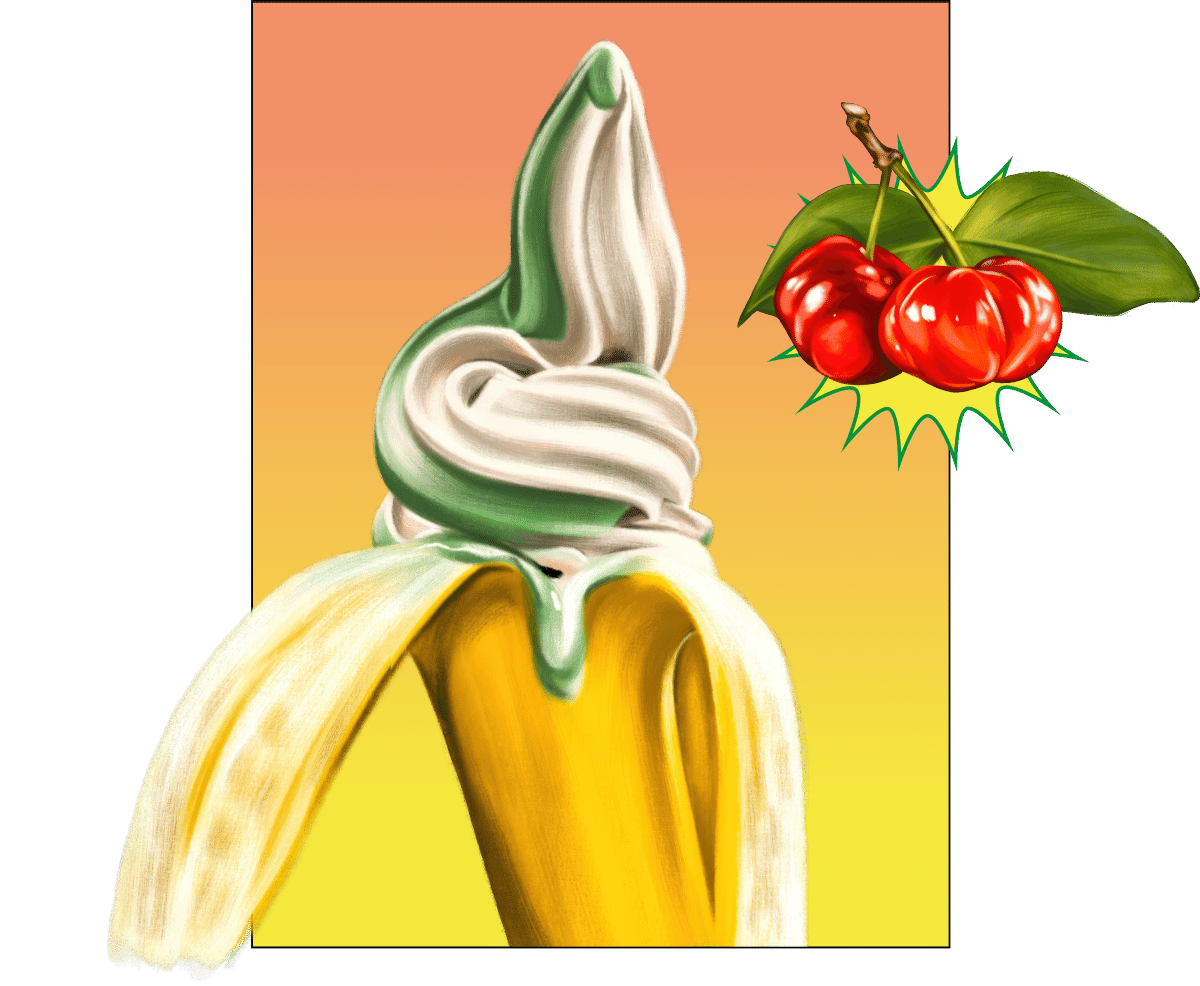 It might be the beaches, the nightlife, or the glitz of South Beach that pulls millions of people to Miami every year, but for some it's the agricultural bounty that keeps them here. And that's a boon for Miami foodies, aspiring gardeners, and especially for restaurant owners and chefs looking to increase the seasonal, locally-grown produce on their menus. Thanks to a favorable climate, an abundance of native produce, and a handful of enterprising farmers and business owners, Miami has evolved into a city that's embracing sustainable dining in creative ways. Here, four leaders of this transformation—chef Niven Patel, Tiffany Noe of Little River Cooperative, Valeria Alvarez of Peel, and Chris French of French Farms—tell us about what they've got growing.
Peel
When Valeria Alvarez spent a couple of weeks in Indonesia, back in 2016, she had no idea that she had taken her first steps toward building a singular business around sustainability back home in Miami. She simply fell into the locals' routine of starting each day with an açaí bowl, and wanted to recreate the healthy morning routine in her non-vacation life. "This is something that I wasn't doing in Miami, and I wondered why," she explains.
Returning to Miami, Valeria started researching where local markets and supermarkets were sourcing their produce from and landed on a handful of fruit distributors located in the heart of Allapattah, a neighborhood east of the city's airport. After research, trial and error, and sheer determination, Valeria figured out her Miami answer to Indonesia's açaí bowl: soft serve ice cream made from bananas—or "banana numero dos," as she puts it, referring to the "second- string" bananas that are perfectly good but cannot be sold to major retailers for aesthetic reasons.
Bananas are the number one wasted fruit in the world, and the fourth most important staple crop. "Once I found this out, I said, 'Okay, this is a really big issue,'" explains Valeria. "And that is how Peel was born."
Peel currently operates out of a brightly colored food truck on weekends and at special events around town, with Valeria using Instagram to alert her loyal following to the location. Her signature soft serve—vegan, not too sweet, perfect as breakfast or an afternoon treat—is created by the "unwanted" bananas that she buys at a 20 to 40 percent discount directly from the distributors' warehouses.
"The recipe is literally bananas and coconut milk, no added sugar and absolutely no dairy," says Valeria, who is looking to expand Peel into a small permanent space. "We also have a rotating flavor every weekend by adding another fruit that I get from the Allapattah market. I want to help raise awareness of food waste, as well as help locals in Allapattah by buying produce that is otherwise going to waste."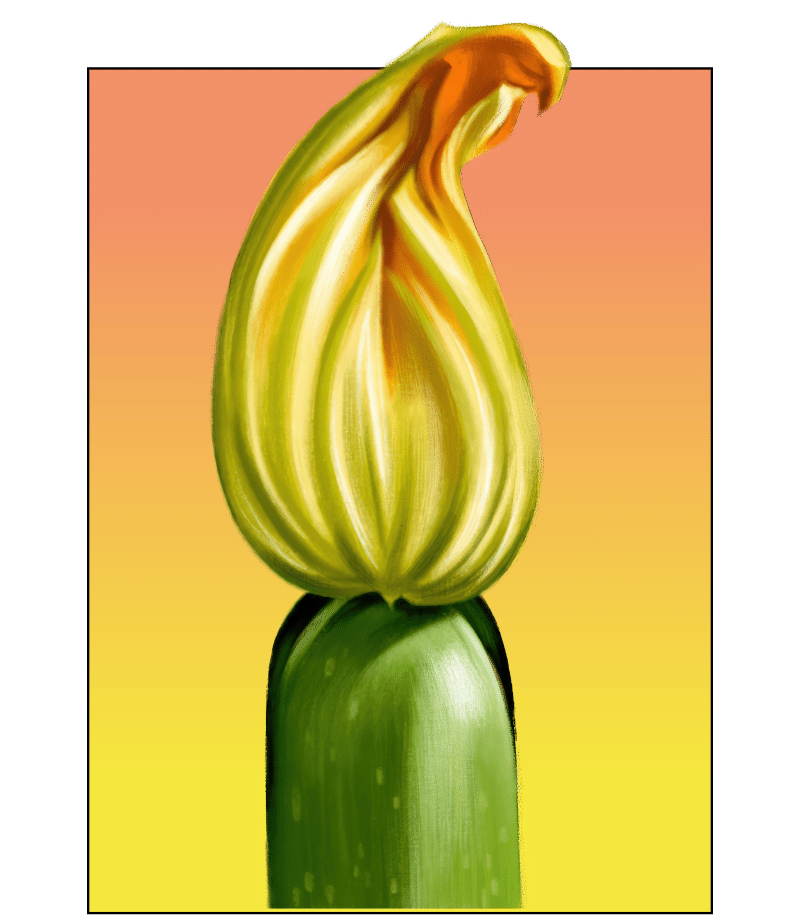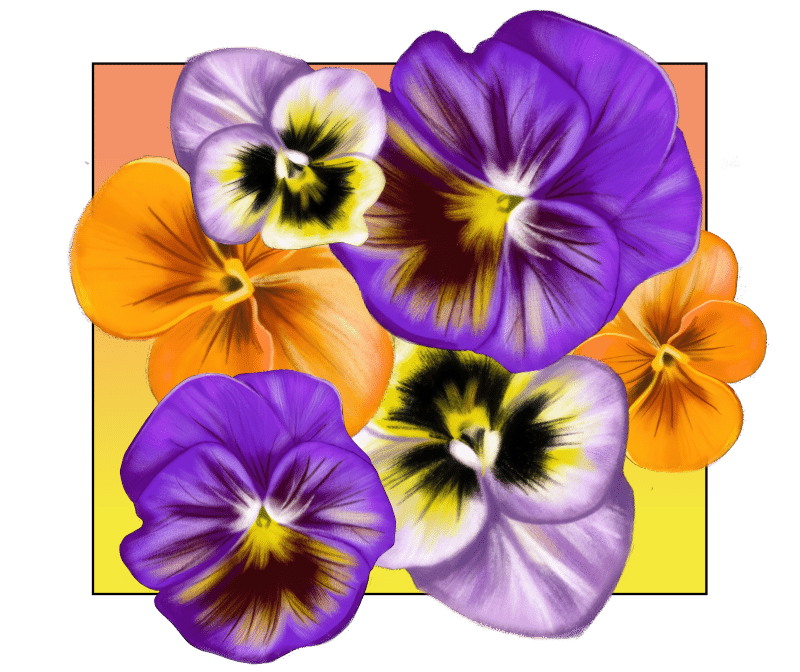 French Farms
"I never thought I was going to be a farmer," says Chris French of French Farms as he grabs two weathered wooden chairs from a corner of his quaint farm down in the Redlands, Miami-Dade county's historic farming belt roughly 20 miles southwest of downtown Miami. "I was, like, an engineer person. But I think I was in engineering because I was a farmer—I just hadn't realized it yet."
For Chris, whose outfit has supplied produce to places like the Mandolin Aegean Bistro, Pinch, and Itamae, a big draw to farming was growing up in Boca Raton with parents who cooked and loved to be in the kitchen, connected to ingredients. One of his first inventions was a Swiss chard smoothie that came from an overflow of the leafy greens growing in the family garden. "I know that's 'in' right now, but back then that was disgusting!" Chris says with a laugh. "You could say Swiss chard was my gateway vegetable."
Currently in its ninth season, French Farms grows leafy greens and lettuces, beets, carrots, turnips, Italian eggplant, cauliflower, edible flowers, and herbs among other typical and exotic vegetables as well as producing pasture-raised eggs. As a gardener-turned-farmer, Chris's background in engineering is evident in his greenhouses, solar power and irrigation systems, and other creative infrastructure that has made him a pioneer of the local small farm community. "It's sustainable for Miami to have operations like this," says Chris. "And I think it's really important for Miami to grow diversified vegetables beyond commodity crops, and for that produce to stay here."
Contact Chris directly through his website for orders or stop by Legion Park Farmers Market before the crowd hits the French Farms stand (it's a popular one!).
Little River Cooperative
"We're making it so there's food in the city," says Tiffany Noe of Little River Cooperative. "We live in this big urban sprawl that's not so dense, with a lot of single-family homes, so let's get those people to grow their own food."
At its core, Little River Cooperative, founded by Tiffany and Muriel Olivares, is built on the mission of educating and empowering everyone from residents to restaurant owners to grow their own food and medicine through education and exposure to farming in an urban environment. "I've always been into plants and observing nature," says Tiffany, who has been drawn to the outdoors since childhood. "I call it 'plant eyes,'" she says, a phrase she coined when writing her book Forager, a kaleidoscopic guide to spotting and better understanding the dozens of edible and medicinal plants that thrive in Miami. "Plant eyes," of course, is another phrase for being extremely observant as a farmer.
"In South Florida, there are many land access hurdles, which may lead to people not getting into farming," notes Tiffany. In the beginning stages of their Little River space, she and her partner grew unique herbs and edible flowers, which they sold to chefs at various restaurants such as Alter and Plant Food & Wine. Now based in the Redlands, Miami-Dade county's historic farming belt roughly 20 miles southwest of downtown Miami, they still focus on growing edible flowers and herbs while expanding to offer gardening workshops and services like garden installations and maintenance to help enable more people to grow food.
You can find Little River Cooperative at the Legion Park Farmers Market from October to May, or at their nursery in the Redlands on Saturdays and Sundays.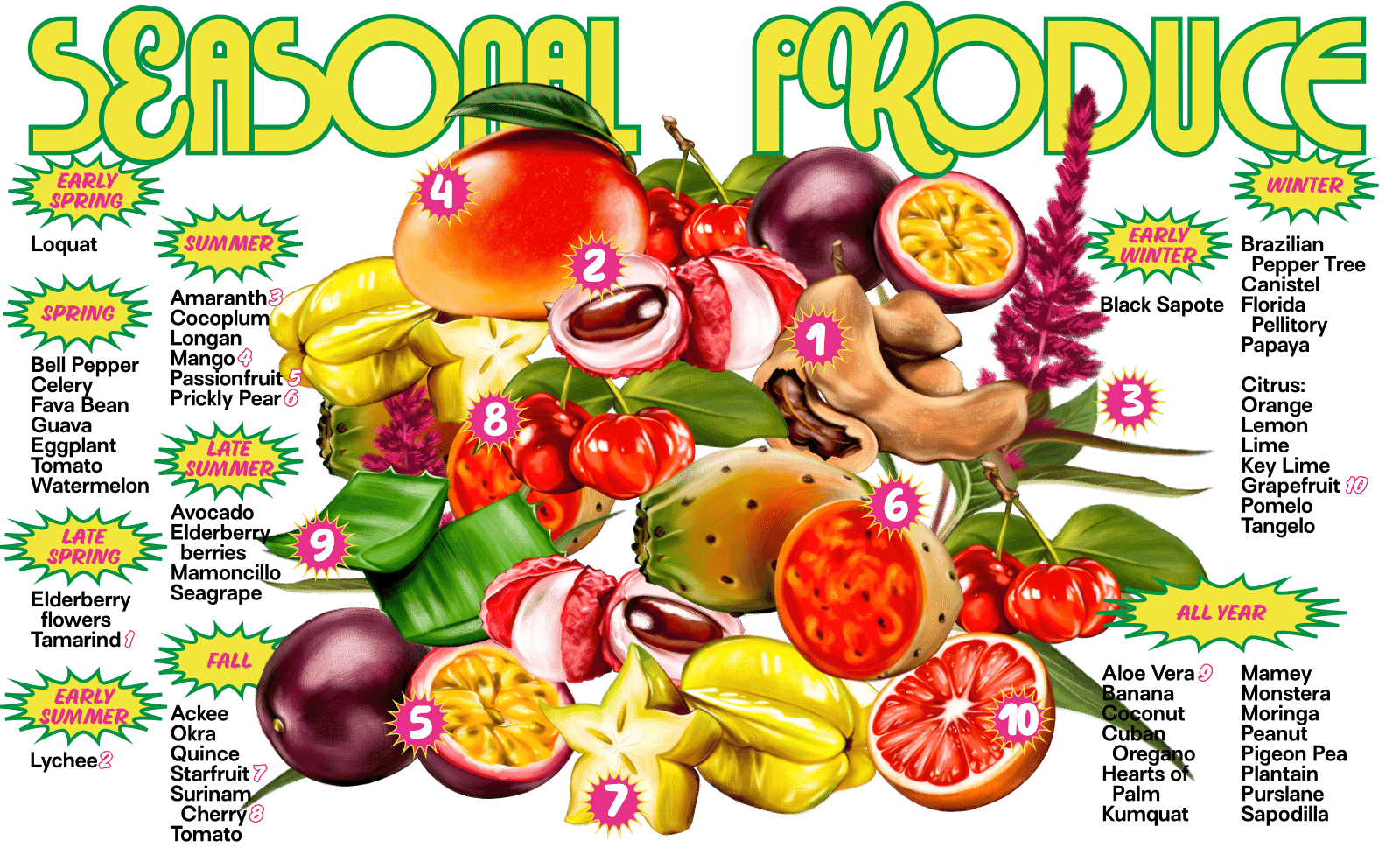 Chef Niven Patel & Rancho Patel
If you've dined at Ghee Indian Kitchen, Mamey, or Orno, then you've been lucky to taste some of chef Niven Patel's personally grown flavors. Before Patel landed in Miami, he was working as a cook in Grand Cayman at a farm-to-table restaurant. When he arrived in the Magic City, he went to work at Michael's Genuine, where he connected with local farmers and producers. Inspired, he started to grow his own vegetables for personal consumption in his two-acre backyard in Homestead, a small town 40 miles south of Miami. The project quickly grew into what is now known as Rancho Patel, a verdant sprawl of 18 40-foot beds where he grows specific herbs and produce for all three of his restaurants.
"The beauty of South Florida is that we get all the seasons. Winter is the main growing season and summer is best for tropical fruit," says Patel, who focuses on growing 10 major crops: taro for Ghee, leafy greens for Mamey, turnips, carrots, and heirloom tomatoes for Orno, along with a plethora of herbs, curry leaves, and fennel. Count the 14 lychee trees, 20 mango trees, jackfruit, custard apples, okra, and eggplant and you have a case study in how well-equipped Miami is to support the ambitions of local, seasonal restaurant menus.
Once a month during winter, Rancho Patel invites the public to a hands-on feast at the farm. The immersive experience includes helping Patel's team harvest ingredients for the meal—farm-to-table dining in the most literal sense. "We let nature dictate how things hit the menu, and we can never plan with nature," says Patel. A part of his daily life is to tend to the farm, harvesting produce in real time as it ripens, delivering it to the restaurants and building the menu based on the haul.
Patel takes particular pride in picking mangos with his team, continuously learning how their flavor profile can vary based on when they're harvested—and, by extension, how the same fruit can be used to different effects at his restaurants. "Mangos ripen from the outside inward, so we pick them from the tree before they are ripe and let them ripen in different ways for the different flavors," he explains with a smile. "It brings me a lot of joy. With the emerging food scene in South Florida, there's a good chance for artisanal farmers to succeed now compared to five years ago. Smaller farmers can survive here."