Black chefs are leading a vegan movement across Miami.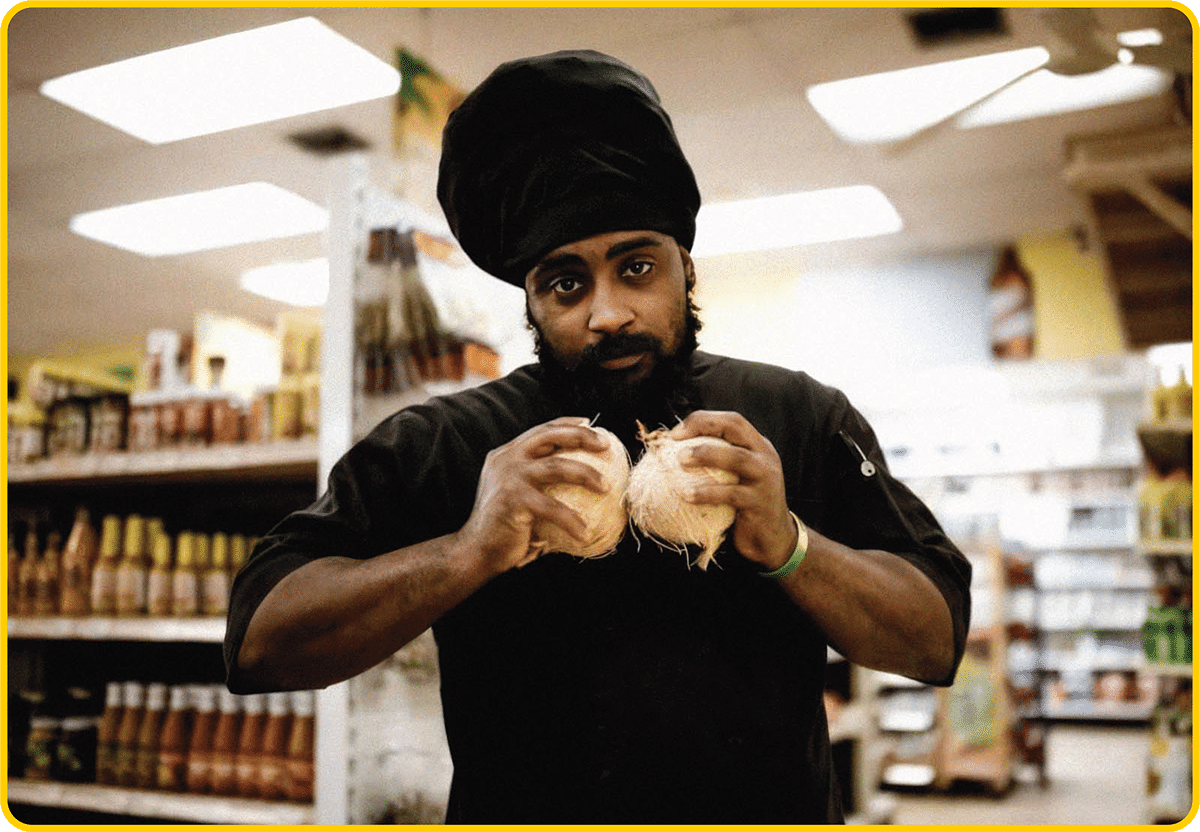 Dub N' Grub
As the line of customers grows longer at Dub N' Grub on a sun-dappled Tuesday afternoon, the customer at the front causing the bottleneck quietly admits, "I've never had vegan food before. I don't even know where to start."
Calmly and unassumingly, Champ Pass, the cashier and unofficial vegan food ambassador, talks the customer through Dub N' Grub's menu, a Caribbean-inflected medley of plant-based dishes, juices, and soups created by Kriss Kofi, the chef and owner. Today's selections include the Crispy IK'N Sandwich, Kofi's rendition of the popular fried chicken sandwich found on mainstream menus but made here with oyster mushroom, and the Jerk Rasta Pasta, a coconut milk-based Alfredo sauce spiced with jerk seasoning that has made many in the community a convert to a vegetarian diet.
The customer, a middle-age Black man dressed in a dark button-up uniform and black Dickies, opts for the Rasta Pasta and two of "those juices," he says with newfound confidence, pointing to the pre-made bottled juices filled to the brim with liquid gold. Cold-pressed blends featuring various concoctions and formulas, including alkaline water and fresh fruit, Kofi knows they have the power to be a sly gateway, luring those who are uninitiated in—or intimidated by—eating vegan back for more.
"We are the only vegan restaurant in Miami Gardens that serves cold-press juices," Kofi says. "I'm proud we can provide this healthy option for the community."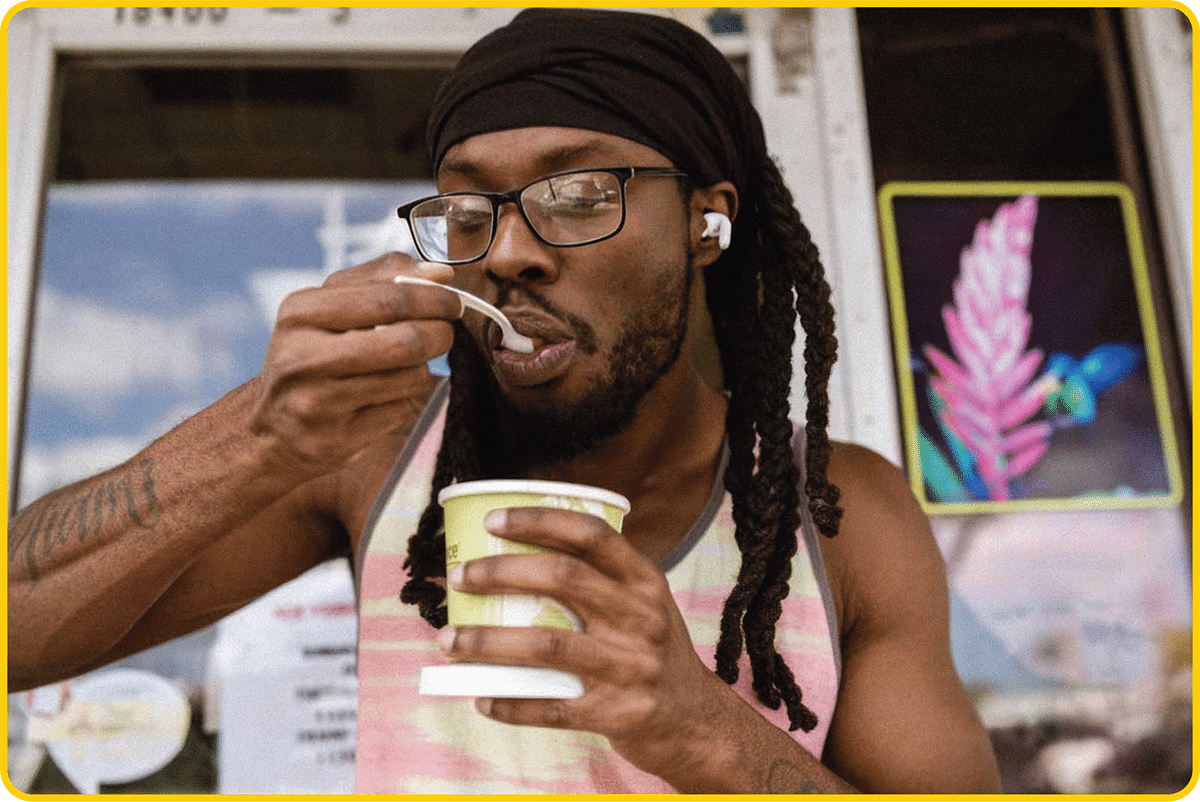 The new-to-veganism Black customer is a staple at Dub N' Grub's unfussy strip mall location in Miami Gardens, where a framed photograph of Haile Selassie sits atop the indoor counter along with two vegan cookbooks, all visual clues into who Kofi is, not only as a chef but a person. While the business is a deeply personal expression of his own path to a plant-based diet, it can also be understood as an extension of a compelling development—a movement, really—inside America's Black community. A 2020 Gallup poll found that while whites were eating 19 percent less meat, people of color reported consuming 31 percent less and are now considered the fastest-growing population of vegans. High-profile Black community members have come out professing the power of the plant: Eight out of 10 Wu-Tang Clan members have been vegan for decades, Senator Cory Booker has been vegan since 2014, Pulitzer Prize winner Alice Walker is vegan, and Beyoncé and Serena Williams have both extolled the benefits of the lifestyle.
It comes as no surprise that South Florida, and Miami in particular, has in recent years seen a spike in Black-owned plant-based restaurants, with Dub N' Grub part of a pioneering contingent that includes, among others, Vegetarian Restaurant by Hakin and Bobby's Meals. The city is home to a sizeable concentration of Black immigrants from the Caribbean, with South Florida boasting the largest population of Jamaican immigrants in the country outside of the Northeast, a diaspora that brings with it a cuisine rich in tropical fruits and plant-based curries, to say nothing of an organic fluency in Caribbean spices and the Asian flavors it gained from the indentured Chinese and Indian servants that populated the islands nearly 200 years ago.
"There's an abundance of fruits and veggies available in the Caribbean that is just a part of our food culture," Kofi says. "And you combine that with the cultures and people that make up the Caribbean, and you don't need meat to flavor your meals."
A first-generation Jamaican American who was raised in Carol City, not too far from where Dub N' Grub restaurant stands today, Kofi has been vegan since 2014, a decision made after a deep dive into his ethnic and spiritual roots, which includes Rastafarian ideals like eating food that's made from nature and free of additives and chemicals. Though he sees himself as Afro-Caribbean, Kofi grew up in an African American culture where food deserts—300 of which exist in South Florida, primarily in Black communities—made access to fresh produce severely limited. Still, it wasn't impossible to find plant-based options as a kid; it just came in a different form from what some Americans associate with vegan foods.
Dub N' Grub can be understood as an extension of a compelling development—a movement—inside America's black community.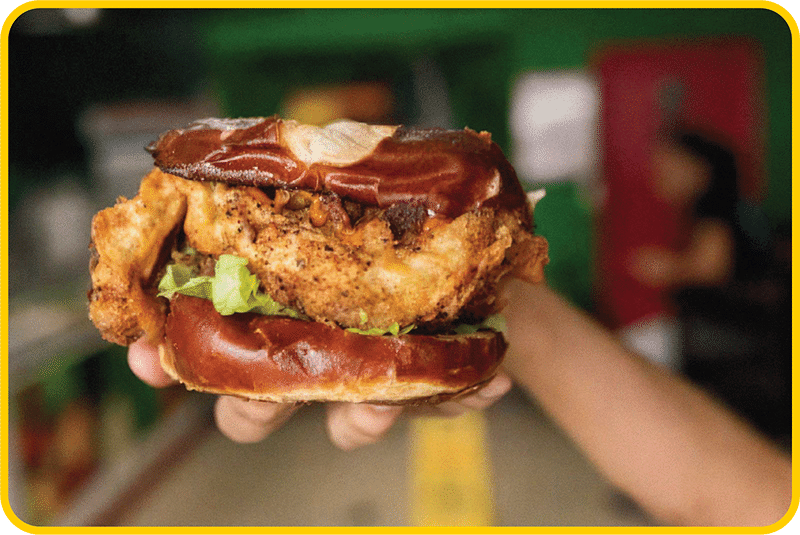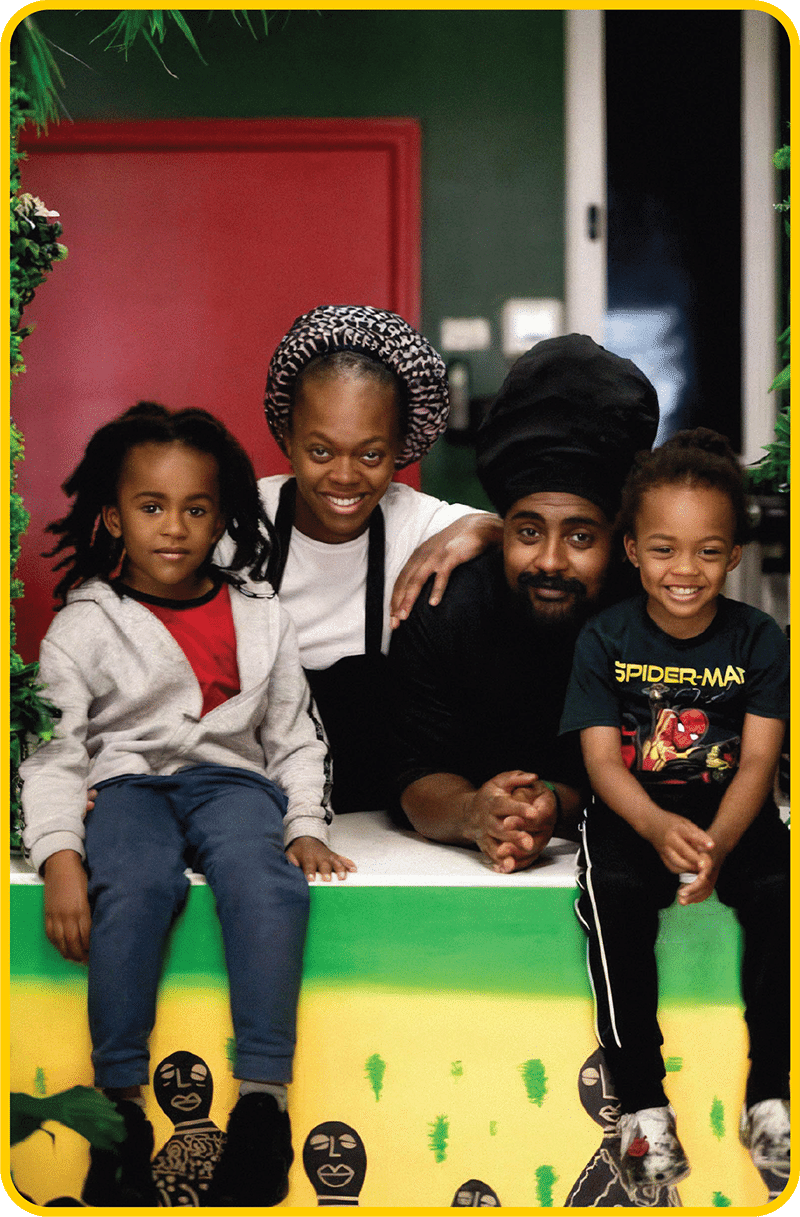 "Even though I didn't grow up seeing a lot of fresh arugula and kale," he says, "I saw a lot of cabbage, celery, broccoli, and carrots."
That seed was laying dormant when Kofi enrolled in two New York City-based culinary schools, the International Culinary Center and Natural Gourmet Institute, which focuses on a plant-based career curriculum. Once he switched to eating vegan, a vision clicked into place, one that braided his newly embraced lifestyle with his desire to run his own restaurant. Back in Miami, he created the Dub N' Grub food truck, quickly gaining a loyal, curious following that last year led him to move into his current brick-and-mortar location. Kofi defines his offerings as Afro-Caribbean-Asian fare, the latter hyphenate evidenced by the two woks and a binchotan grill that are in constant rotation throughout the day.
"It's really a blessing to see people in our community come see us," says Kofi, who estimates that 98 percent of his clientele is Black or Afro-Caribbean. "I like to think we do a different form of currency exchange: They give us their money, and we give them our creative ideas on a plate. Our community deserves this."
"There's a movement in the Black community toward going natural," says Tricia Antonio, a Black Miami-based psychotherapist who has seen in her practice something similar to what transpires at a place like Dub N' Grub. "Whether we're talking about Black women going natural with their hair or using plant-based oils for their skin care routine, the Black community is shifting and craving natural, earth-made products and goods."
With a majority Black clientele, Antonio says her clients who've adopted a plant-based lifestyle generally lead happier and healthier lives. For some it is a change inspired by heritage, like Kofi, while for others it is connected to feeling empowered to challenge norms. "There's something powerful to be said when a person can gain more control over what's going on in their body," she explains. "It's overall permission. It's like somebody finally gave Black people permission to change aspects about their lives, which includes what they eat. Before it was, 'You just have to deal with it.' Now it's 'I can change it.'"
Shatekia Mosley, a Miami native, sees a reflection of herself in the city's Black-owned vegan eateries, where she's a regular customer. Mosley went fully plant-based nearly 16 years ago, after biting into a piece of chicken and having, traumatically, an entire bone crumble in her mouth. A Black woman and animal lover, Mosley began reading up on veganism and its overall benefits, like lowering cholesterol and the risk of strokes, conditions that historically affect Black Americans and lowered their life expectancy compared to whites.
"I consider my body like a temple," says Mosley, "and I need to nourish it with the best that nature has to offer." When she initially took the plunge into veganism, family and friends were concerned at what they perceived would be high food costs, making a plant-based lifestyle an unsustainable option for her blue-collar salary. But it was a false narrative that many in the Black community, which typically earns 30 percent less than whites, believed. In fact, a recent Oxford University study found that a plant-based diet can cut food costs by up to one-third in high-income countries like the United States.
​​For some going vegan is a change inspired by heritage, while for others it is connected to feeling empowered to challenge norms.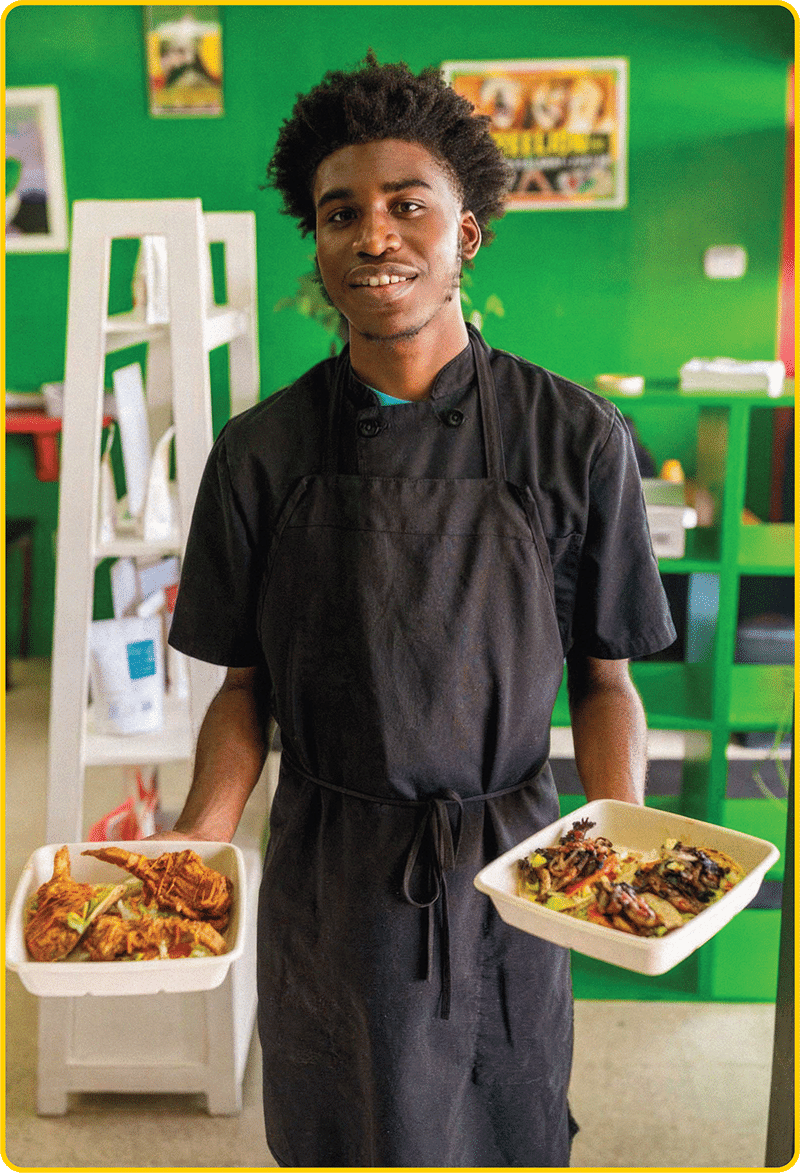 Despite research debunking the ideas that a vegan diet is cost-prohibitive, Mosley has told her loved ones that it's all relative. "What's expensive to me might not be expensive to you," she says. "And the price of my health and happiness is a cost I'm willing to do research on and pay for."
At Dub N' Grub, Kofi is transparent that the restaurant's profit is minimal, especially considering the intricate spectrum of ingredients and intensive labor that goes into each of his from-scratch sauces. The menu prices might incite sticker shock to some customers, but it's a calculated cost in Kofi's eyes. For example, some of his exotic mushrooms can go for up to $14 per pound, and with half of that being water weight, the chef says the price can even be a lot for him to swallow.
But the way he justifies it? It can be cheaper to dine with him, even at $25 a plate, than preparing plant-based foods at home and having to load up on new, unfamiliar ingredients. And, in the end, the taste might not even be there, so the customer ends up with a bad home experience with plant-based cuisine. "We want to provide people with a gourmet experience and not cut corners," he says. "We want to make the food as welcoming as possible so our customers can eat it every day."
Burgerhive
Some 13 miles North of Dub N' Grub, in the Miami suburb of Davie, you can find a similar scene playing out at Burgerhive. A three-year-old joint co-owned by Mcashley Joseph and his wife, Carla, Burgerhive is a light-filled, casual eatery specializing in illicitly delicious meat-free burgers like the popular Island Spice Burger—a.k.a. the #3 if you're looking at the menu. Marinated in a Haitian epis sauce, a blend of vegetables, herbs, spices, and garlic, the burger is topped with pikliz, or fermented vegetables, that leaves just the right amount of tingly spice on your lips and tongue. Despite its limited menu, the restaurant has been so popular that Joseph says there are plans to open five more South Florida locations in the next four years.
Joseph has been a vegan since he was a teenager growing up in South Florida, a decision that was initially met with a lot of head-scratching from his Haitian mother. "When I told her I was becoming vegan, she said, 'I don't understand anymore. You don't want to eat food anymore?'" Joseph recalls with a hearty chuckle. After some explanation that included dispelling the idea that plant-based food is "grass and leaves," and instead included ingredients like flavorful beans and tofu that can take on just about any flavor, his mother was on board.
"With black millenials, we are not our parents. We've seen some of the errors that have plagued the black community. We're informed and doing something about it."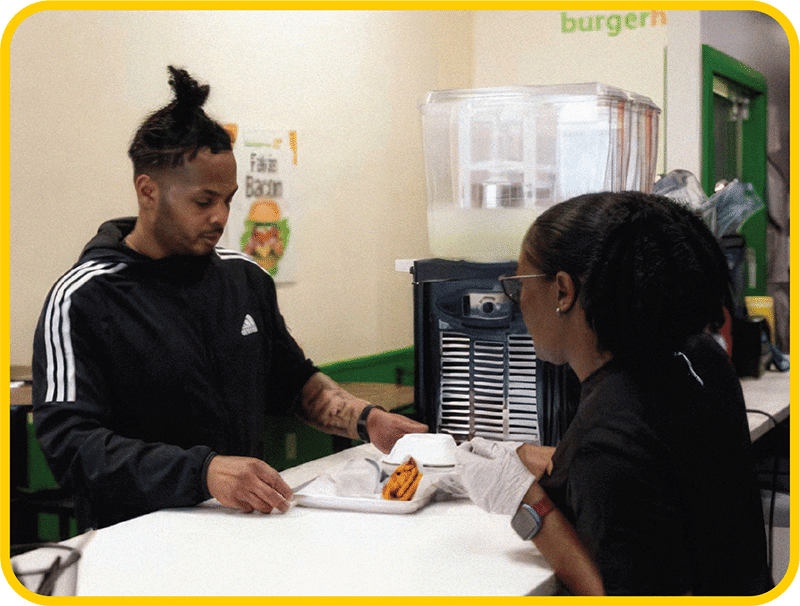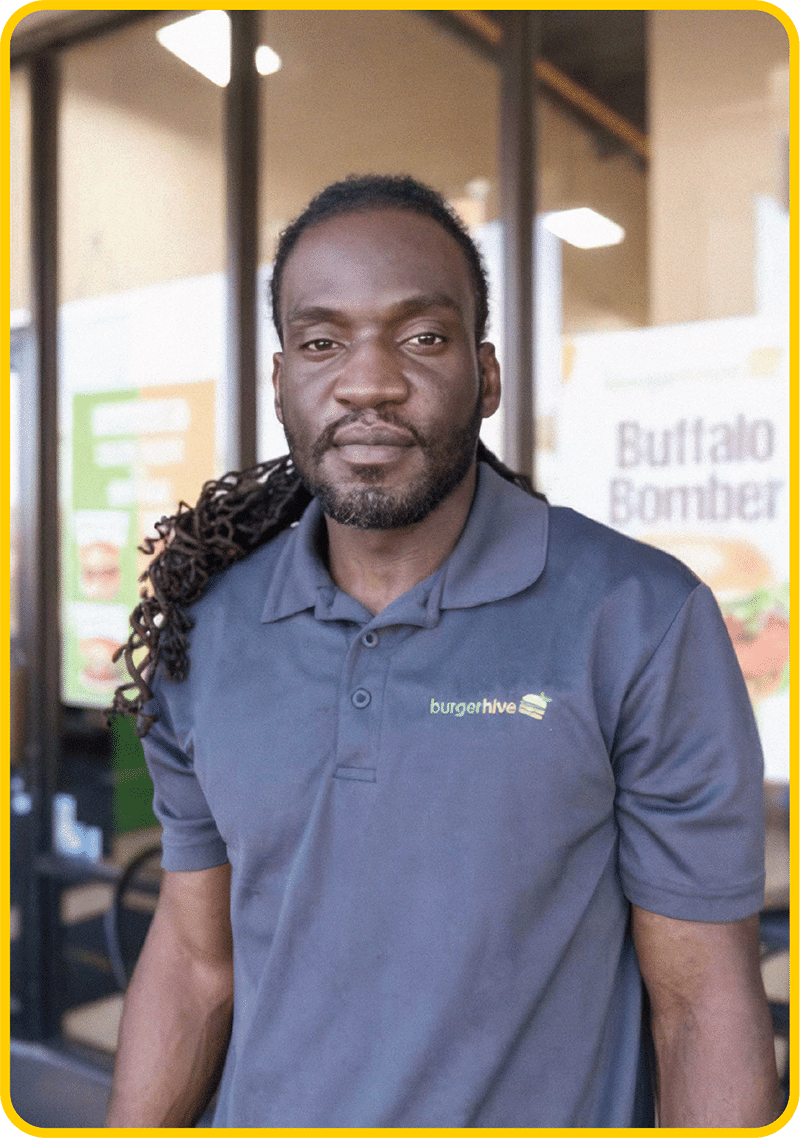 Joseph left his job as a business manager of a local internet service provider to open the first iteration of Burgerhive inside a food truck in Fort Lauderdale during, of all times, the COVID-19 pandemic. Burgerhive persevered, and so did Joseph. Positioned in the parking lot of a florist, at its peak Burgerhive was making nearly $1,000 Davie, Florida a day, an impressive figure for a food truck with low operating costs.
The food truck eventually turned into the brick-and-mortar store where today Joseph and his team serve a wide swath of Miami: families, college students from the nearby Nova Southeastern University, businesspeople. While plenty come through the doors already attuned to vegan dining, just as many arrive with an eyebrow raised. Among the latter is one of Joseph's own employees, Malik Gordon, a young Black man who, prior to working at Burgerhive, admits he thought vegan food was little more than boring, flavorless green food. Since taking the job, however, Gordon has found more than just a paycheck and now regularly incorporates a plant-based diet into his life.
"I think that with Black millennials, we've always been reading and researching," Joseph says on a recent afternoon, taking a break during a shift. "We are not our parents. We've seen some of the errors and things that have plagued the Black community, like hypertension and high blood pressure—all things related to diet. We're informed and doing something about it."