Harvesting Heritage
Words by
Marianne O'Brien
On the essential connection between Asian farms and Los Angeles restaurants.
I discovered Thao Family Farm during the early months of the pandemic. As a public high school teacher, my lunches have always been harried, 30-minute affairs spent shoveling food into my mouth while entering grades, bargaining with students, and emailing my colleagues about some frantic matter or another. Suddenly, while working from home, that chaos was replaced by a calm, quiet hour to myself. With the freeways unfathomably empty, I was able to drive to the Torrance Farmers' Market, where the stand for Thao Family Farm became a portal into a world essential to Los Angeles restaurants.
Located in Fresno, 200 miles north of Los Angeles, Thao Family Farm is one of over 1,000 Asian-run farms that dot California's Central Valley, an abundantly fertile stretch that yields over half the produce, fruits, and nuts grown in the United States. The Fresno area in particular is home to a large Hmong community that settled as refugees from the many U.S.-backed wars in Southeast Asia. A mountain-dwelling people who live in southern China, Vietnam, Laos, and Myanmar, many came in the 1970s, during the Vietnam War and the Laotian Civil War, with the resulting political unrest leading to a wave that continues today. Many brought with them farming techniques and soon started growing the same produce they had harvested in Asia.
This geopolitical strife gave way to something enchanting in Los Angeles, a sort of ecosystem where Asian farmers, growing Asian vegetables that were once scarce in the U.S., started selling their produce at farmers' markets, and restaurants quickly took notice. Thao Family Farm, run by a Hmong family originally from Laos, has long been venerated by some of the city's premiere chefs; Kismet, Sqirl, Rustic Canyon, Night + Market, Felix, and Republique are among those who have featured the farm's produce in their esteemed dishes. David Chang has called it "the best farm in America."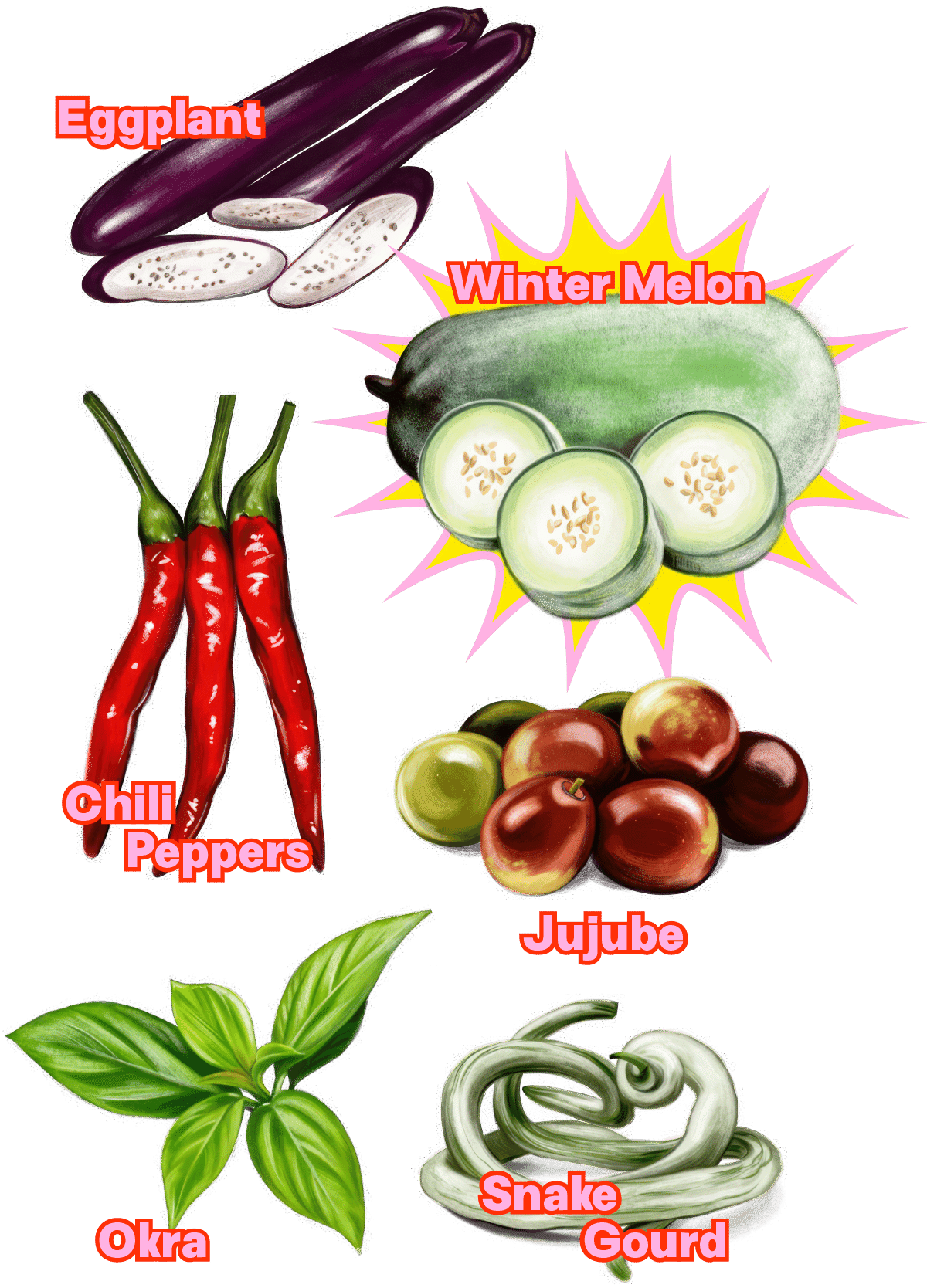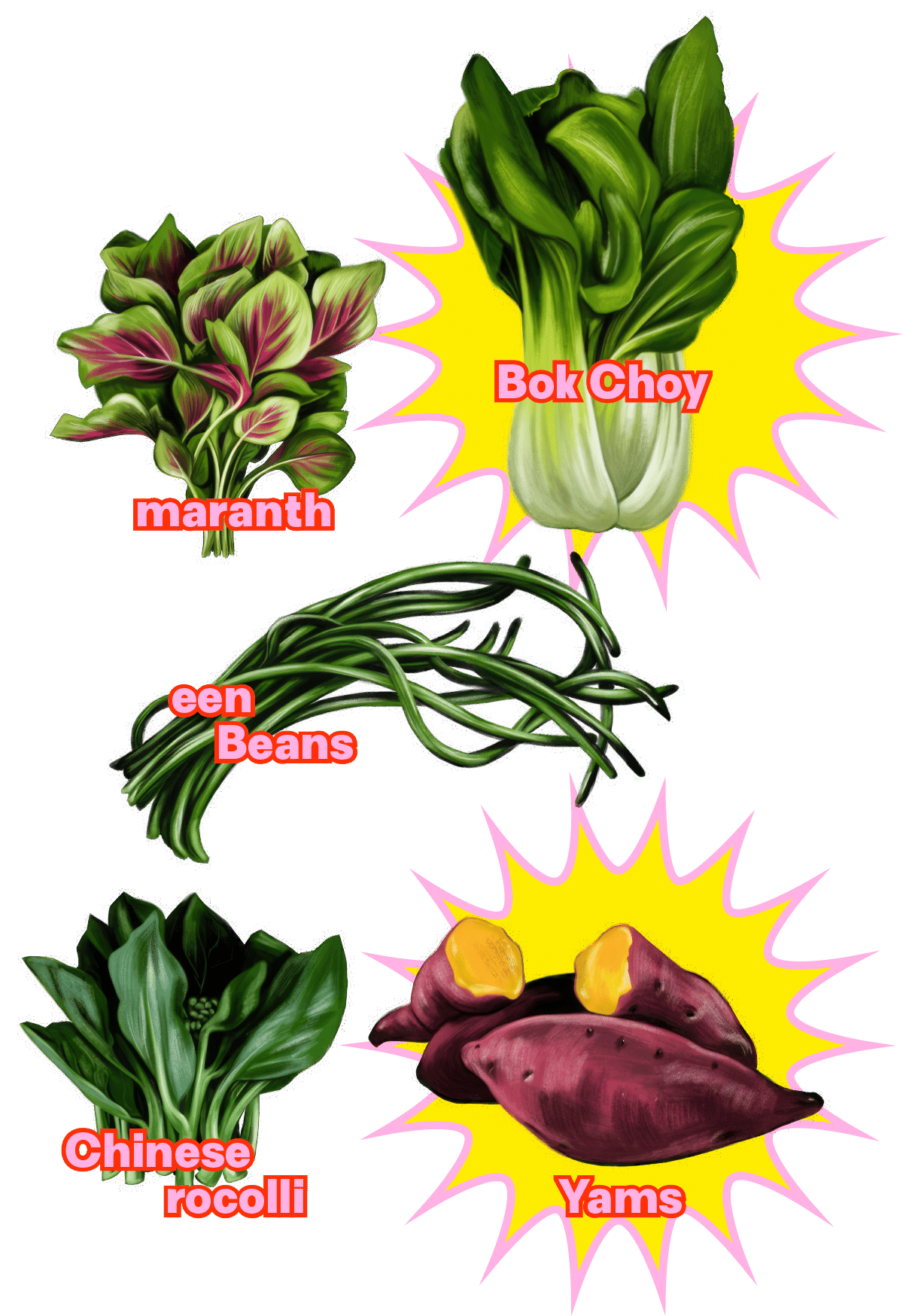 "My dad grew up on a farm in Japan, so I have a close connection to small farms," says Charles Namba of Tsubaki, a Japanese restaurant in Echo Park that sources from farmers' markets. "We start with the produce and then build the dish around it."
During the pandemic Thao Family Farm started selling a $40 produce box, which, for me, was like being let in on a cherished secret of local chefs. I remember picking up my first box, leaden in its weight, with greens bursting from the waxy cardboard. Kong Thao, who has since retired as the farm's most public face, would post the itemized list of produce on his Instagram, which I treated like a study guide before an exam. One week it was: opo squash, raw peanuts, bell peppers, jicama, moringa, bird's eye chili, Napa cabbage, Japanese eggplants, Chinese long beans, Kaffir lime leaves, Sichuan peppercorns, and lemongrass stalks. Another week brought: gai choy, Japanese sweet potatoes, sprouting cauliflower, okra, cherry tomatoes, yu choy, snap peas, daikon, bitter melon, Thai shallots, lemon basil, and collard greens.
I'm Korean, with a mother who is a classically trained chef, so some of this (daikon, Napa cabbage) was familiar. Yet the variety of varietals was overwhelming—and thrilling. Letting go of my perfectionistic impulses, I cooked and cooked, without a recipe in mind, discovering, as so many chefs have, that very little is required with exquisite produce—an opo squash, for instance, needs only a simple sauté in oil and salt to reveal its glory. There were many mishaps, of course. I under-roasted the raw peanuts and was treated to a chalky taste that still haunts me. I threw the moringa leaves into a stir fry and spent an evening picking the woody stems out of my teeth. But a Thai curry I made, using okra, chilis, bitter melon, and kaffir limes will forever rank as a top quarantine meal and the moment I understood something vital about the connection between local Asian farms and local restaurants.
"My dad grew up on a farm in Japan, so I have a close connection to small farms," says Charles Namba, the chef and co-owner of Tsubaki, a Japanese restaurant in Echo Park where the produce, like the sugar snap peas that he pairs with whipped wasabi tofu, is sourced from local farmers' markets and drives much of the menu. "We go twice weekly, so we always have an idea of what looks best and what's in peak season. We start with the produce and then build the dish around it." Along with Courtney Kaplan, his longtime girlfriend and Tsubaki co-owner, Namba also regularly drives 100 miles south, to Rancho Santa Fe, to scan the harvest at Chino Farms. "The Chino family has been farming in California since emigrating from Japan in the 1920s and they're just legends," says Namba, explaining that the farm has triggered a more modern migratory pattern. "Hundreds of trainees now actually come from Japan to learn farming techniques and guiding principles from them."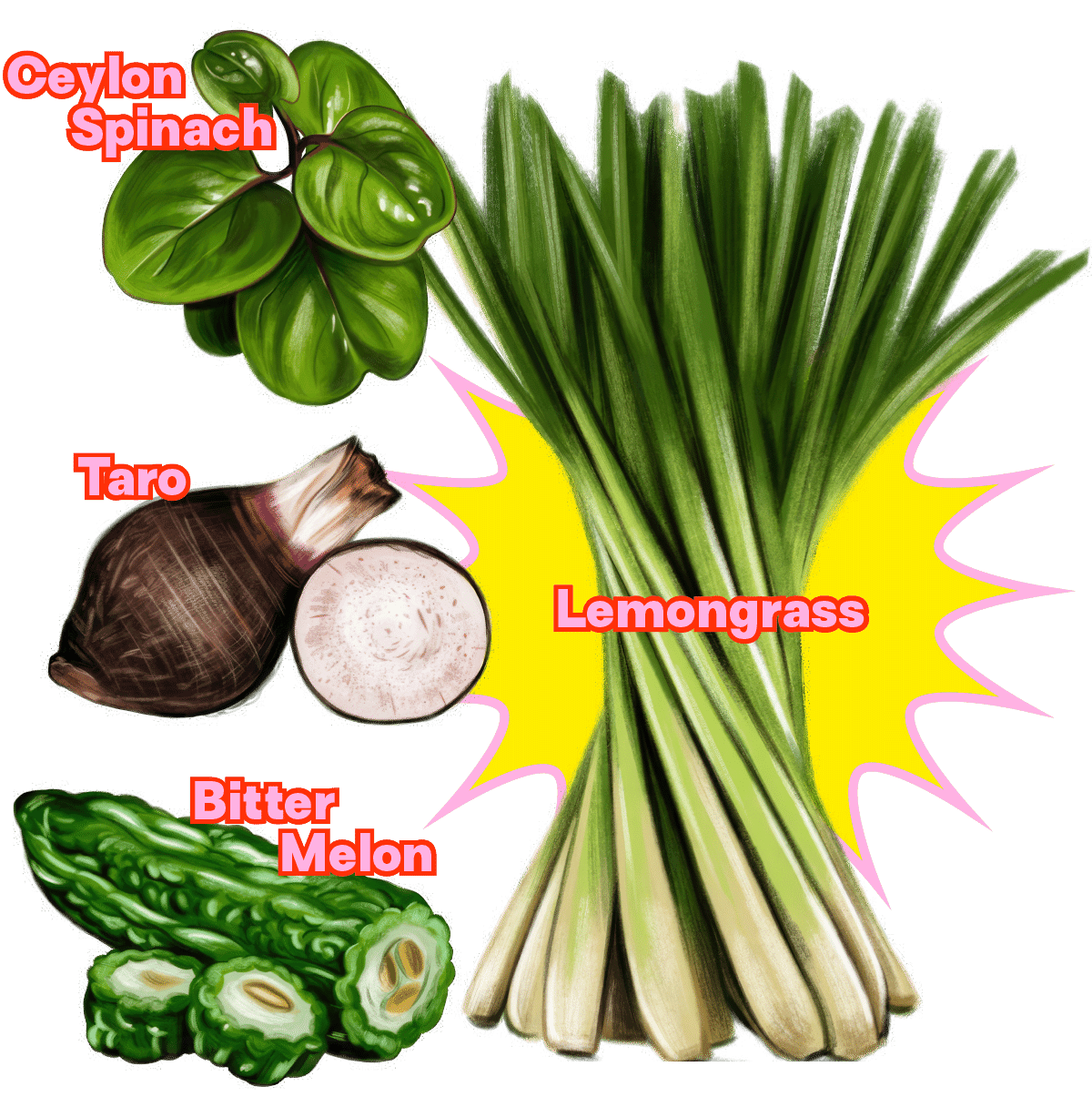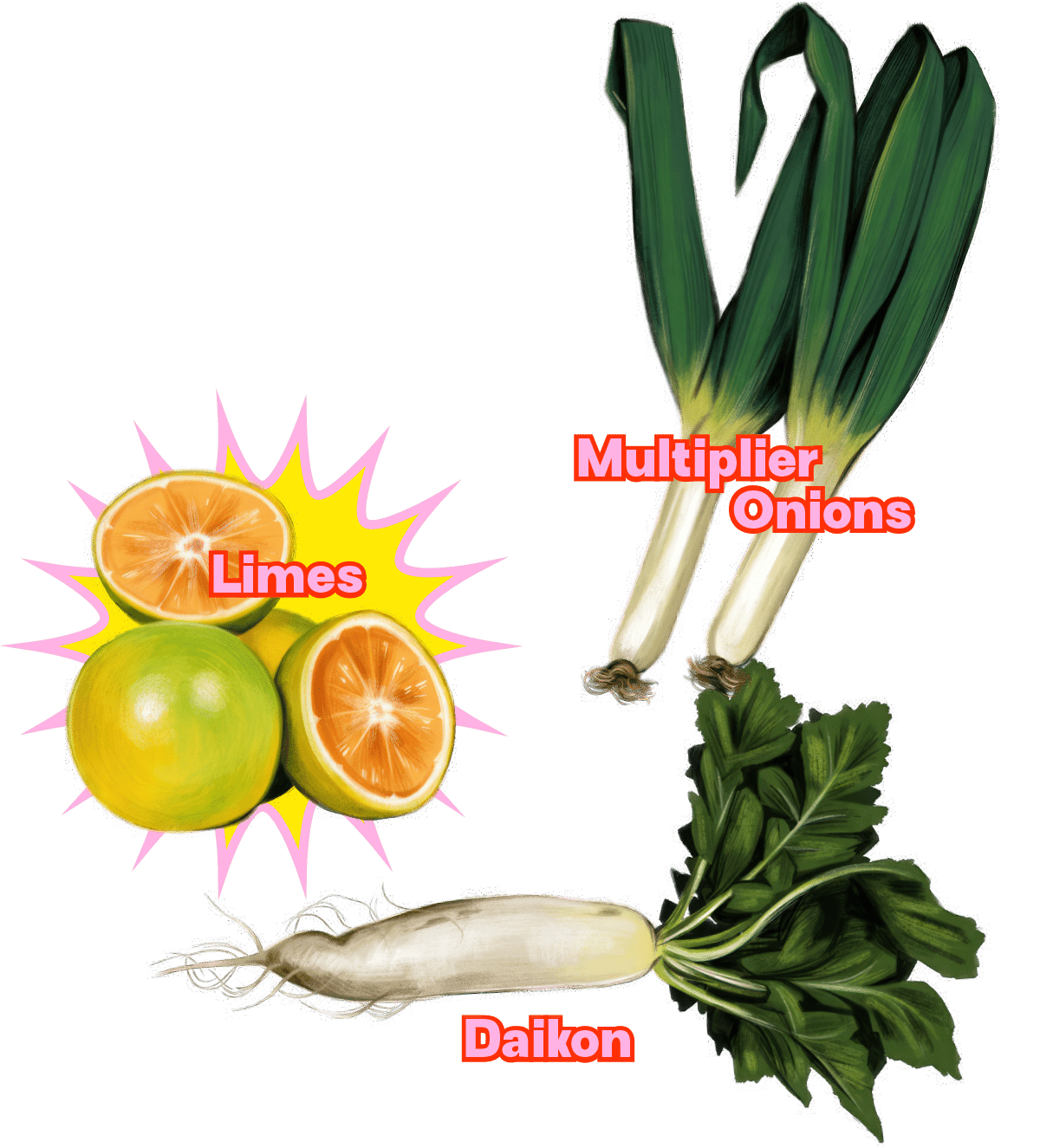 I can relate to their enthusiasm, as those boxes from Thao Family Farm became the start of an ongoing exploration into the world of Asian produce grown and cooked in California. This is how I discovered Fresno Evergreen, owned by Kim Her, a Hmong farmer, where one afternoon at the Santa Monica Farmer's Market I found myself pulled, as if by a magnet, to the Japanese sweet potatoes and arm-length daikons on their table. Chao Her, who was manning the stand on a recent visit, came to the U.S. in 1995, at the age of nine, and started working on the farm the next year. Now he sells to Los Angeles restaurants like Gjelina, Felix, Ayara Thai, and Jon and Vinny's. "They really love our basil," says Her of Jon and Vinny's, proudly showing me the many pounds ordered of sweet, Italian, and Thai basils.
Another notable Hmong farm that can be found at Los Angeles farmer's markets is Ken's Top Notch Produce, which grows illicitly flavorful satsumas, pluots, white nectarines, Cara Cara oranges, and Oro Blanco grapefruits. But the reason I search them out is one my Korean mother could get behind. Fuyu persimmons and Asian pears were a staple of my upbringing, what was served when guests came over in the winter. My mother would always announce the price of each fruit as she was serving them: "This pear! Eight dollars for one." Now, as an adult, I can enjoy the elegant sweetness of both, without the grocery store price tag.
Korean immigrants have also settled in farms in California. Ha's Apple Farm, based in Tehachapi, 100 miles north of Los Angeles, sets up shop weekly at the Torrance, La Cienega, Hollywood, and Culver City markets. Peter Hong, the nephew of the farmer, says the Fujis are the most popular apples they sell, but customers are generally adventurous about trying other varietals, like the Mustu apple; first bred and grown in the Aomori prefecture of Japan, it has a light green flesh and flavor akin to a Golden Delicious. From Japan to Korea to California: the simple apple tells a complex story of Asian tradition finding a place in America.
"We're really proud of the vendors that we work with, and want to acknowledge them on our menu," says Kaplan, of Tsubaki. "A lot of our guests actually go to the same markets that we do—I see familiar faces every week."
Next time I'm combing through a heaping pile of bok choy, I'll make sure to look for her.