Miami has long attracted big names in the restaurant world, but the recent pace of outsiders setting up shop is like nothing the city has seen before. Local legend, Michelle Bernstein, doesn't think it's a bad thing.
When you catch the blinding reflection of the glittering disco ball and hear the slow melody of the Trova guitarist, then you know you've arrived at Café La Trova. In this lively Calle Ocho setting that's an ode to vintage Cuba, diners come for the island-inspired food and drinks and stay for the entertainment, which on any given night is boisterous and loud, just as it should be.
If anybody is an authority on Miami dining, it's Café La Trova's founder, Michelle Bernstein. A matriarch of modern Miami cuisine, in the 2000s the 305 native helped push the local dining scene forward by celebrating the area's natural fruits and harvests while mixing in her background in European and Asian flavors and techniques. The result? Something Miami diners had never tasted before. In 2008, she earned a James Beard Foundation Award in the Best Chef: South category for her namesake restaurant Michy's. From there, she's continued opening restaurant after restaurant, and has three more concepts on tap for 2023.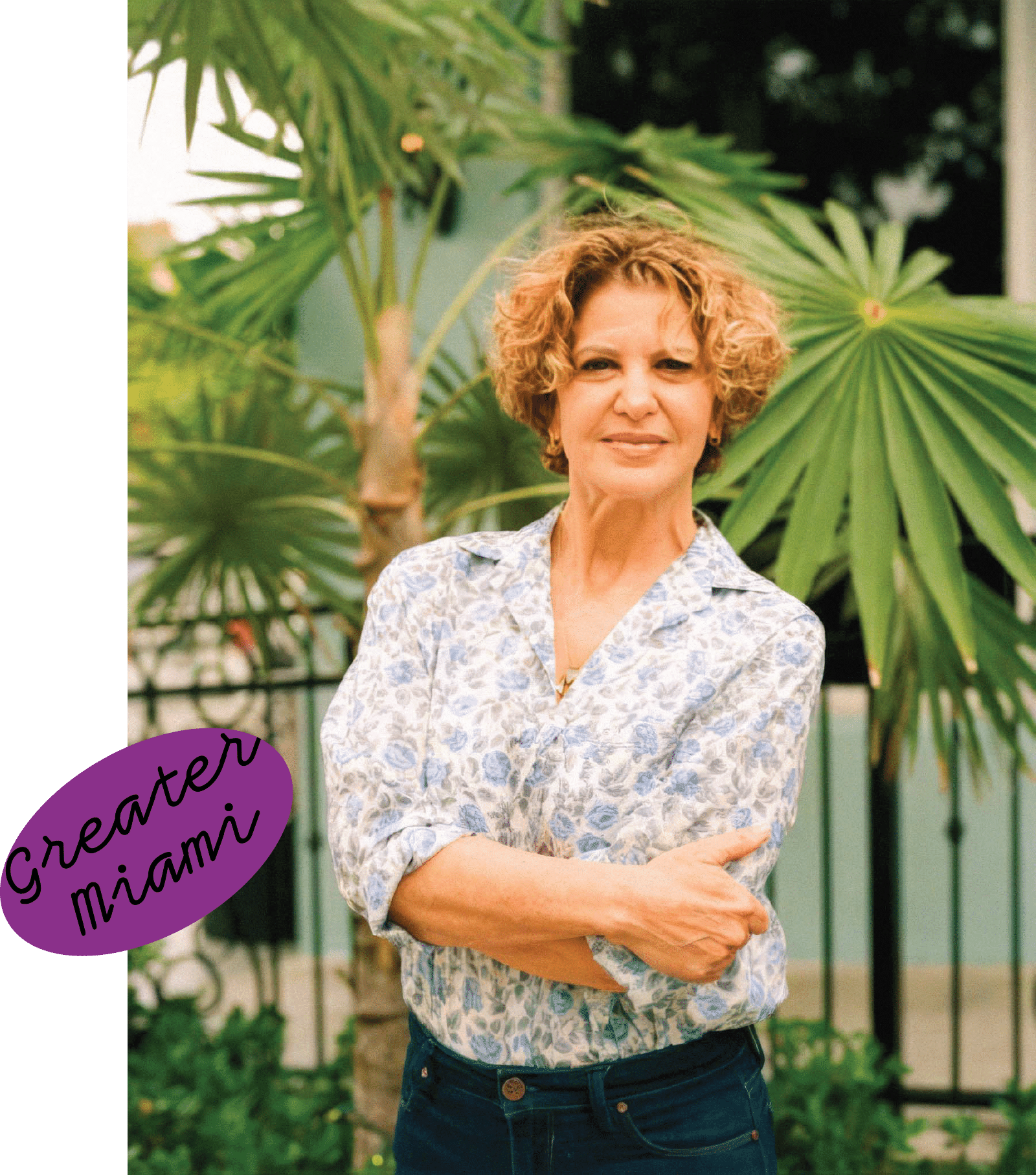 These days, Bernstein and other local chefs are also experiencing an infringement upon their beloved culinary territory. With major restaurant groups from New York, Chicago, Los Angeles and elsewhere creating southern outposts in the Magic City, and global superstars like Marcus Samuelsson, Gordon Ramsay, and Thomas Keller opening glossy restaurants in town, one wonders how this tsunami of well-funded outsiders has affected the city's pioneers. Here Bernstein gives us her unfiltered take on how a little healthy competition can go a long way.
You grew up in Miami during the '80s and '90s. What was the dining scene like then?
During those days, nobody went out to dinner in Miami. It would have to be a really special time or occasion. But when my family did go out to eat, I remember there was a French restaurant where I had my first escargot experience at seven-years-old. It shaped my life so much that when I was nine, I asked my mom for my birthday to teach me how to make escargot because I told her that I wanted to make it for the rest of my life.
Escargot at seven? That's adventurous.
I just think that's how we were back then. We were curious, and we liked trying new things.
How has Miamians' curiosity influenced today's dining? Because now we're eating out all the time.
I think there are a few different reasons why it changed, but mostly it's people having more disposable income and the region becoming more of an eating culture. There's a store or restaurant around every corner, so it's getting easier and more accessible. People love to eat and have different flavors in their mouths, and want that experience to be more than once a month.
Would you consider it healthy competition?
We can share the love. Having a larger concentration of high-level restaurants can make us all greater in the long run. That means we're becoming a food destination and travelers will want to visit us. Miami used to be known to travelers for only having an "entertaining" side—the beaches, the night-life—but now it can just be for the food.
How have your restaurants evolved?
We had to grow. Not only have the restaurants changed, but we have changed because the expectations have changed. Our restaurants have found the need to discover great local talent and train our staff to offer the best in hospitality, and our culinary team has been pushed to taste and travel more to expand our palates. The demographic of our customers has changed—age, ethnic background, income levels, everything. When demographics change, you have to change, or you're out.
"When the likes of Thomas Keller, Gordon Ramsay, and the Major Food Group guys come here, local chefs can't think that we're going to survive just because we've been here longer."
And your interactions with the newbies: How have they been?
I've gone and said, "Hi, and here's some powdered sugar if you need it." But that's really it. The new guys don't really reach out to us much. And it's okay because a lot of us are really reserved and shy. I got into this business because I'm shy, and I wanted to work in the back. I remember during my Michy's days that my husband would have to hold my hand every time a customer would ask to see me because I was afraid they would throw a tomato at me.
What are today's diners looking for when eating out in Miami?
They are looking for experiential dining. They are not just looking for a great bite, not just a great night out with friends; they are looking for a whole damn experience. At La Trova, for example, we have authentic Trova musicians playing live music, and it's a real vibe. People want to be entertained, they want a great cocktail in front of them, they want great music, they want to see and be seen.
That must be challenging.
Some might think so, but I look at it in this way: Can you imagine giving people an experience that they will remember for the rest of their lives? I think it's amazing! How many people can say that they've helped create someone's entire night, a night they'll tell their friends about for years to come? That's something I don't take lightly.