First came Mama Fong's noodles. Then came the hustle. The story of how Keegan Fong's Woon grew up to be more than just a restaurant.
Woon Kitchen is located on Temple Street in Historic Filipinotown. Driving west, the restaurant's large square sign pokes up into the blue sky and depicts a drawing of a woman eating noodles out of a bowl. On the opposite side of the sign, the words "Homestyle" and "Chinese Food" accentuate Woon's logo, which is, quite brilliantly, written out as one long noodle.
It's Sunday and the early dinner crowd is slowly settling in. Music echoes through the spacious interiors and out onto the dining patio. Keegan Fong, owner and founder, orders one of everything at the kitchen and begins to tell me the story of his homestyle Chinese restaurant, starting with his maternal grandparents who fled Communist China in the 1950s for the United States. Under extreme pressures to assimilate, matriarch June Fong fed her family frozen dinners and fast food and essentially gave up cooking Chinese food entirely. It was Julie Fong, Keegan's mother, who, out of necessity, became the sole chef of the household. Born in Shanghai and raised in Hong Kong, Julie taught herself how to cook using her mother's recipes, incorporating the Shanghainese flavors of her childhood with the pan-fried fare of her adolescence to create her own cuisine. "And then once we were born," Keegan says of him and his sister, "she tweaked things again to make sure we liked them, too."
The fried tofu fishcakes come out first, and directly represent Julie Fong's ability to adjust her self-taught recipes to appease her children's palate. Keegan takes a fluffy square and breaks it in half. Opened up, the fish paste is light pink and sizzling. "These are based off a dish that we used to see at dim sum," he explains, "which uses ground pork stuffed tofu that's usually steamed. Instead, my mom stuffed the tofu with fish paste and pan-fried it to make it crispy"—and more appetizing to her picky kids.
"The traditional Chinese restaurants were not fully accessible to me, or weren't as approachable. And the Chinese American restaurants were Panda Express and orange chicken. We're kind of a crossroads between those two worlds."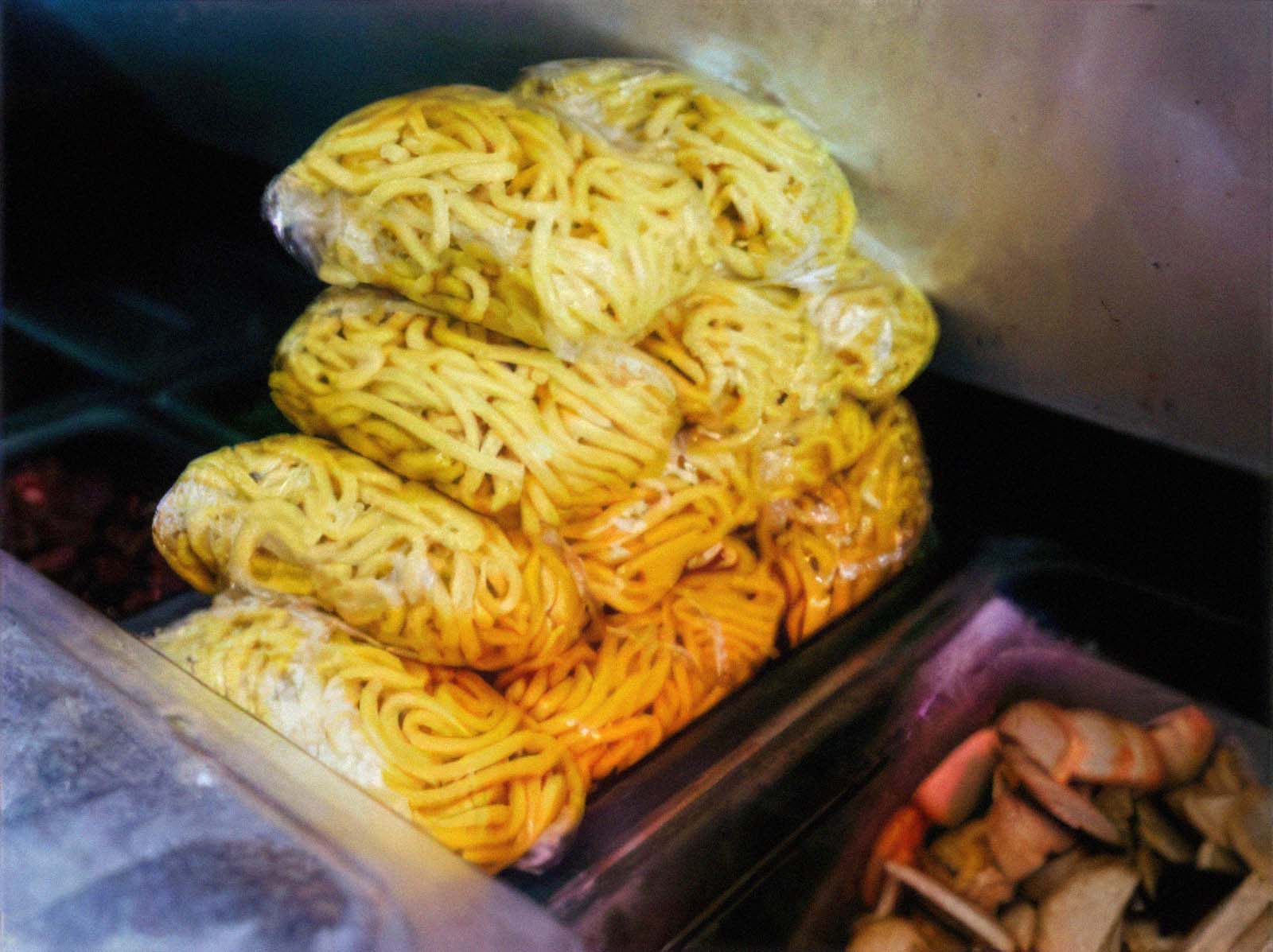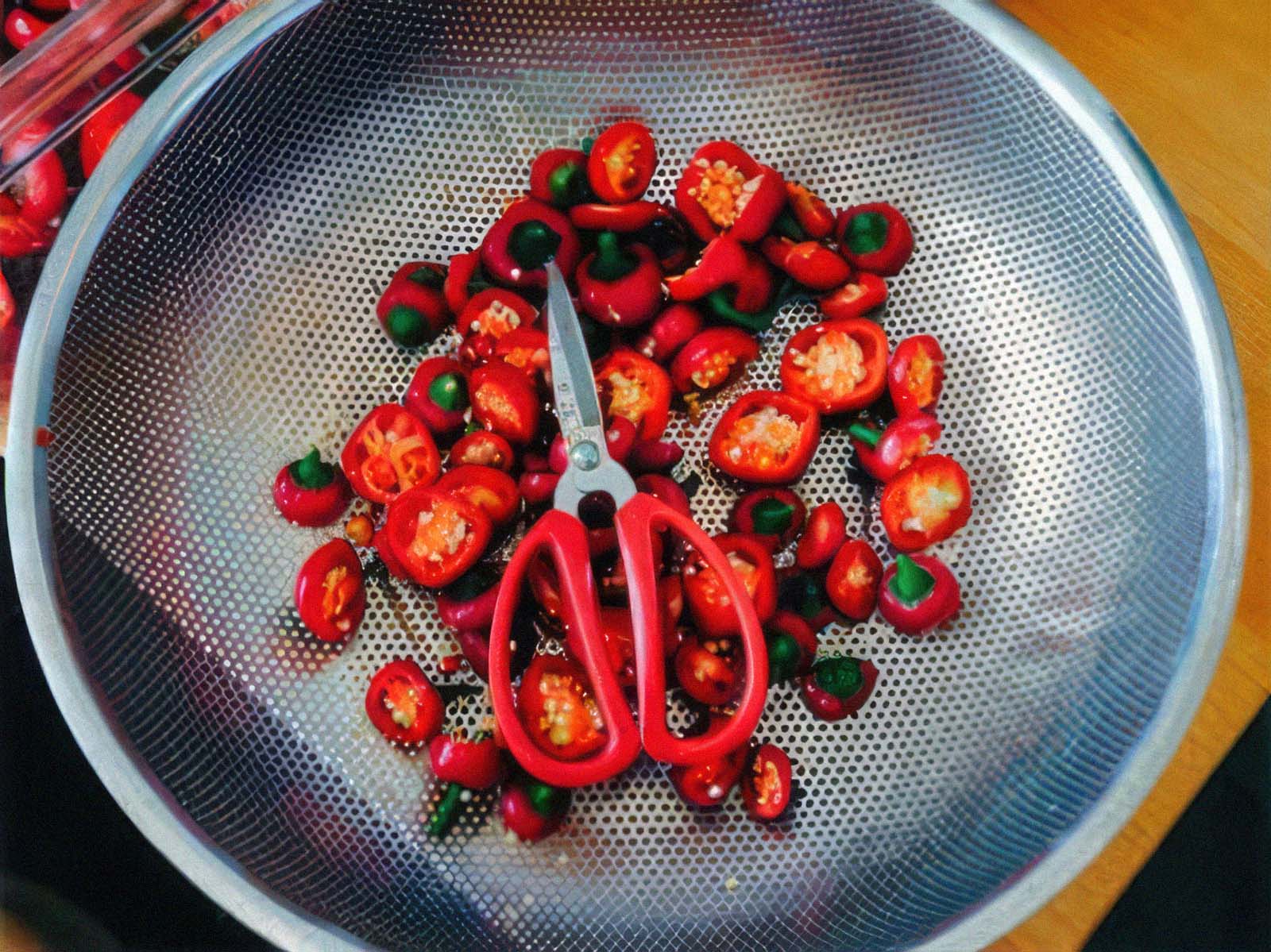 Next come the soy veggie wraps, which may look like egg rolls, but go above and beyond that basic Chinese menu staple. Made from tofu bean curd molded into a sheet, the veggie rolls are stuffed with a stir-fried mixture of bean sprouts, shiitake mushrooms, Chinese chives, and tofu, and served with a side of soy sauce. Explains Keegan, "I think for my mom, the veggie wraps were the healthy version of an egg roll."
"We grew up eating these hot the night-of," Keegan continues, speaking of both the fishcakes and veggie wraps, "and then cold the next morning, or as cold leftover snacks after school." Keegan admits his mother never taught him how to make these meals, but that he and his sister were avid helpers in the kitchen, acting as an assembly line, and foreshadowing a future career path.
It wasn't until Keegan left for college that he realized the profound effect of his mother's homemade food. As a teenager, he remembers how his friends would praise the food she served them at sleepovers and after school hangs, how they even nicknamed her "Mama Fong" because of her warm, hospitable nature and pleasure at serving a room full of hungry teenage boys. But at college, hundreds of miles away, he suddenly understood the meaning of comfort food. And missed his mom's.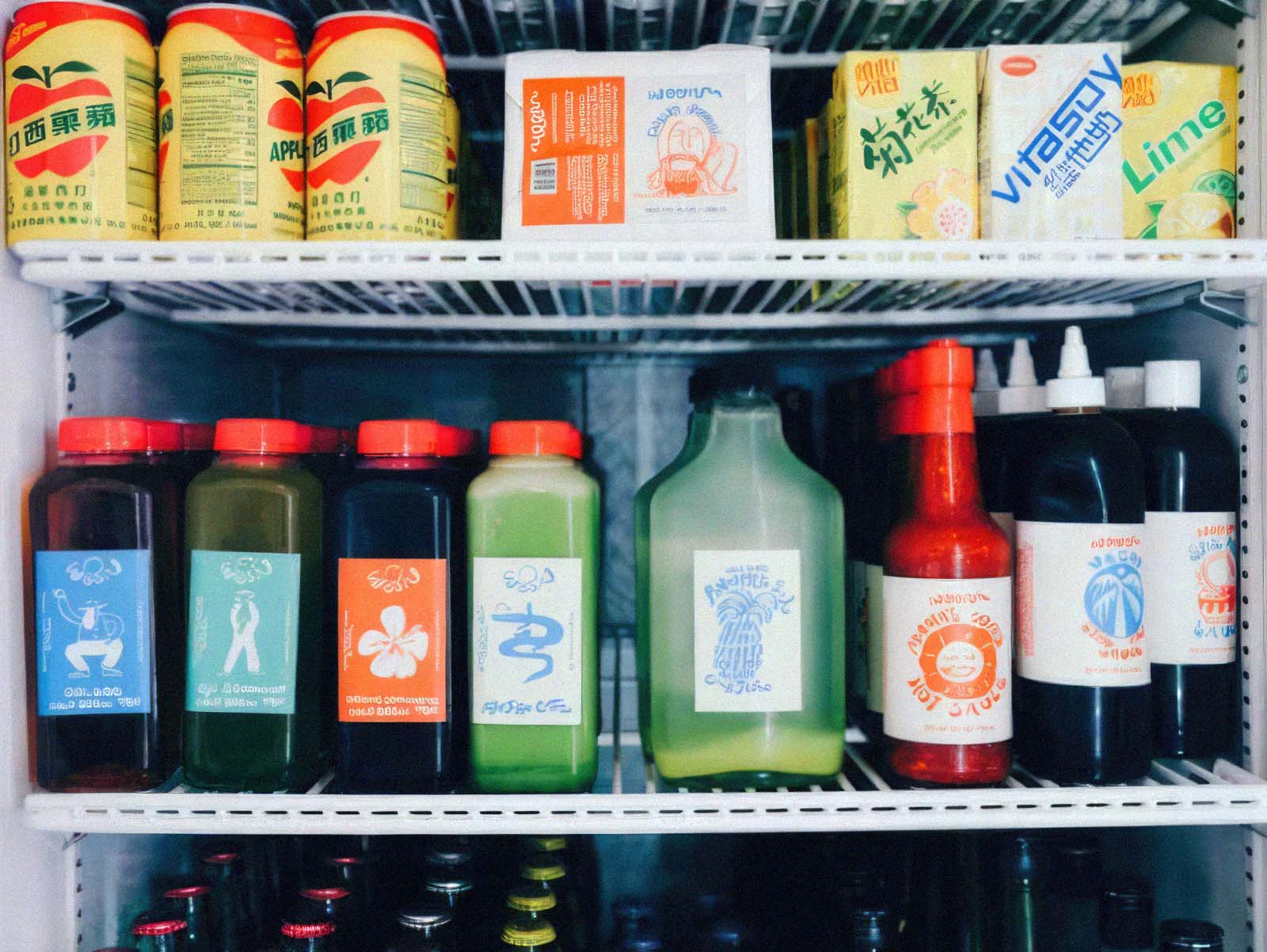 We eat the salads next: the smashed radish, wood ear mushroom and bean curd sticks, and the chilled cucumber and tofu salad. All three are served chilled and soaked in a white vinegarbased marinade. The radishes are indeed smashed, but not crushed; they're broken in a way to allow the sauce to seep in. The bean curd sticks are rehydrated, giving them an excellent texture that pairs perfectly with the chewy black mushrooms. The cucumber and tofu salad, another texture sensation, is a dish Keegan remembers eating right out of the Tupperware during trips home for holidays and vacation: "I'd open the fridge at any time, and the cucumber tofu salad would always be there."
White vinegar plays a pivotal role in almost every dish at Woon, and Keegan reflects that the use of it may have been a fluke, or a last minute substitution by his mom for a missing ingredient. "I have a feeling she ran out of red vinegar," he says, "because red vinegar is used a lot more commonly as a condiment or an add-on, much more so than white vinegar."
It's important to note that Julie Fong was never professionally trained in the art of cooking. Rather, she developed the art herself, cultivating it over time, and finessing it to suit her circumstances. "She's the quintessential grandma cook, right?" says Keegan. "Based on feel, taste and smell." Or, you could say, a natural born chef.
So when Keegan was given the opportunity to cater a craft fair, he naturally put Mama Fong in charge of the kitchen, and her beef noodles, a dish Keegan says was a special treat for him as a child, became the main attraction.
Just in time, a bowl of the beef noodles arrives at the table. Chewy, pan-fried, and surprisingly al dente, the noodles in this dish are unlike any Asian noodle I've tried before."We actually par-cook our noodles in house so that they have the al dente bite," explains Keegan. They're complimented by tender, marinated pieces of flank steak, fresh bok choy, shiitake mushrooms, and tossed in a wok for a slightly charred aftertaste. Woon earned its reputation based on these noodles, when Keegan and his mother were hustling the pop-up food world, and it's easy to see why.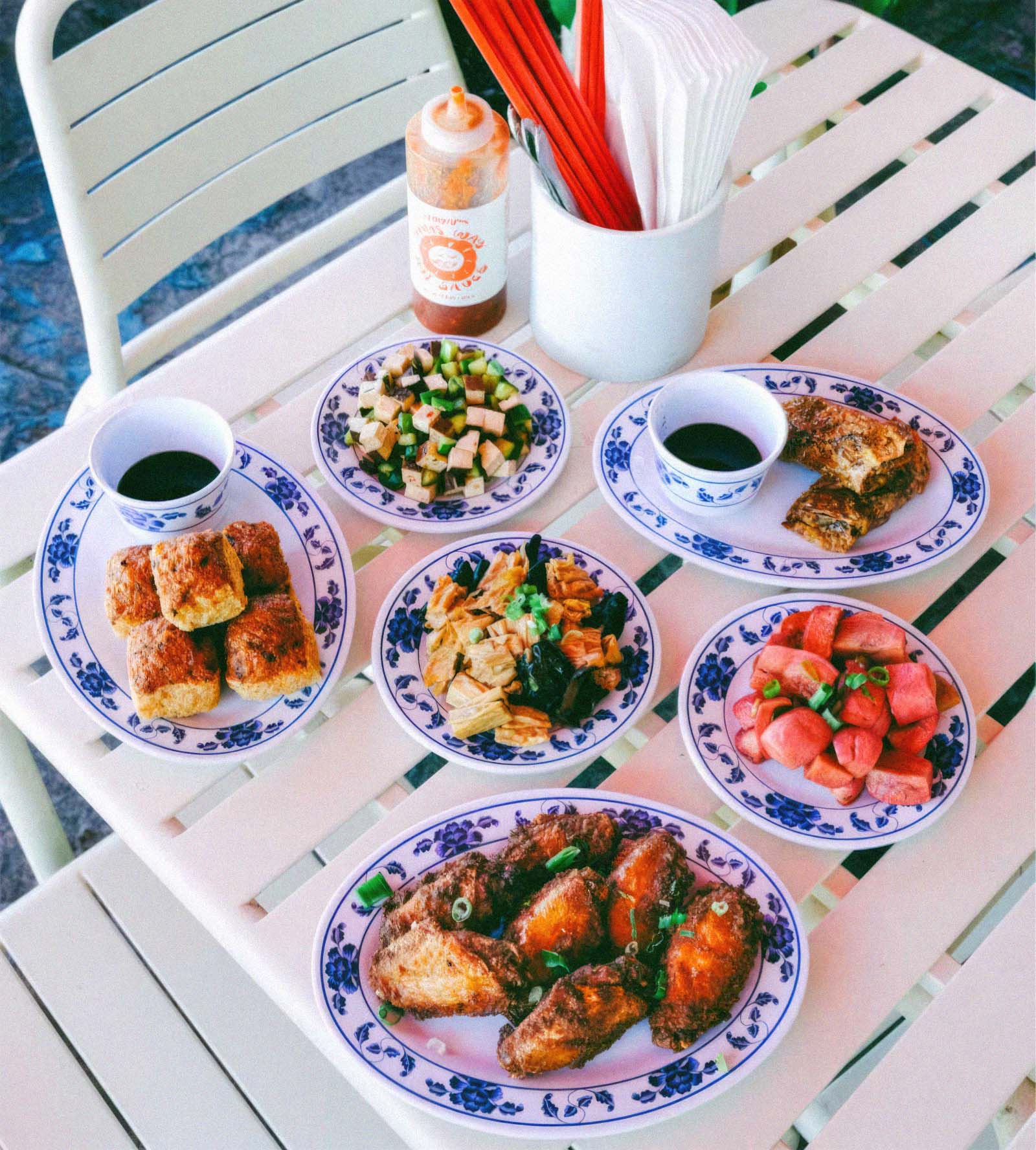 Why beef noodles? I ask. Even though the answer is right in front of me. Keegan remembers how, at the time, "there was this huge Asian soup trend going on with beef noodle soup, pho, ramen," and yet dry noodles were completely overlooked. "Stir-fried noodles are usually at the back of the menu at Chinese restaurants," he explains. "We took what was an afterthought and put it in the forefront and made it special."
Keegan looks back fondly over the noodles, how it was the definition of comfort food for him and his sister when they were kids. "Those noodles, that's what we always asked for, at any event, like Chinese New Year or anything like that." It's almost kismet that his mother's noodles are what made Woon a reality.
Before Woon Kitchen opened its doors in 2019, the fledgling restaurant borne from a pop-up needed to choose a menu, one that was small, feasible, and manageable, since it was their first attempt at the game. Their ethos evolved around two words: simple and minimal. "So many Chinese menus are really confusing and large," he says. "We chose our 10 favorite recipes and slapped them on the menu." Half of those items happened to be vegan, "which was fortunate," Keegan adds, in terms of accessibility. "We adjusted little things in prep to make them more efficient, but, more or less, all the ingredients are the same, and the finished product is the same as how my mom made it when I was growing up."
Of course, there have been a few additions to that core menu, most notably Mama Fong's five spice chicken wings. Marinated in garlic and a secret spice recipe and then deep-fried, they arrive on the table, crisped to perfection, and garnished with green onions. Beneath the crispy outer layer, the chicken is unbelievably juicy. I could eat an entire plate of these and still want more. "She basically made the chicken wings for us," Keegan says of his mom. "It was her way of getting us to experience that Chinese influence in food but presenting it in more of an American way."
The restaurant itself, the brick and mortar structure that sits on Temple Street, is, in a sense, a reflection of Keegan's identity. "It's kind of my intersection of being Asian American." As a child, he says, "The traditional Chinese restaurants were not fully accessible to me, or weren't as approachable. And the Chinese American restaurants were Panda Express and orange chicken. We're kind of a crossroads between those two worlds, I think. More accessible to someone who's maybe not familiar with traditional Chinese food, but also accessible to someone who grew up in a background like mine, someone who had an Asian American upbringing."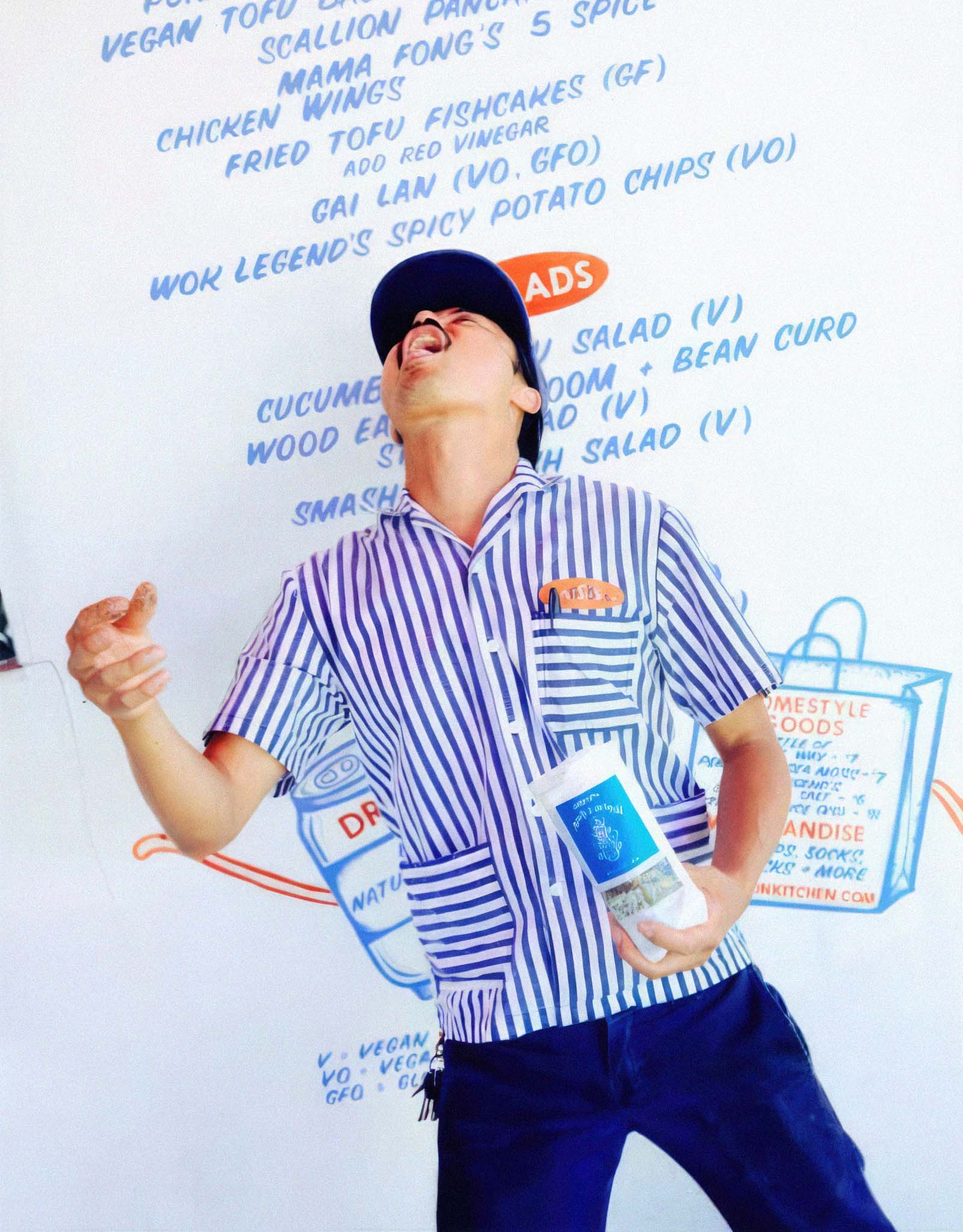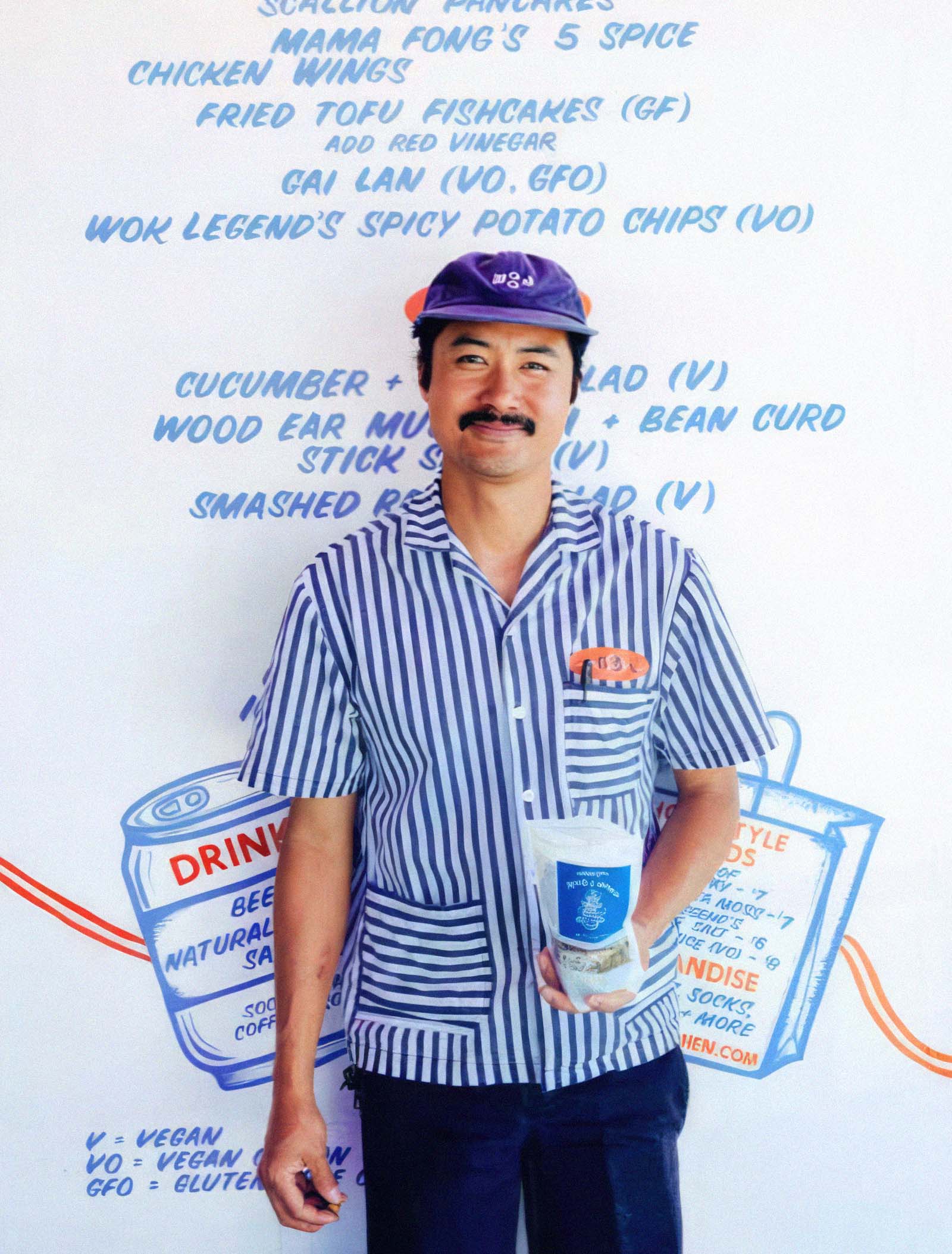 How does he feel sharing his comfort food with the entire city? Keegan remembers that when they first opened, he joked and said, "Hey, those are my fishcakes!" at the sight of customers savoring his childhood snack. His mom had a similar reaction to sharing her recipes, all of which had never even been written down as a safeguard. "Those are hers," Keegan says. "They're her labors of love."
Keegan emphasizes that Woon, and the culture of food in his family, has always been about inclusion. "I want people to feel like they're part of an experience. You get to try the food, you get the ambiance, you get the music, you get to meet my mom sometimes," he says. And if you can't make it in, Woon will come to you. Keegan reveals that delivery wasn't part of his original plan, but at the onset of Covid, they learned to master it: "People experience Woon here, but now they can experience it at home, too."
"I always imagined Woon as a brand with different verticals," Keegan adds, explaining that Woon's story is meant to exist beyond the four walls of the restaurant. Packaged goods was one of those verticals, and now, fueled by the hustle he learned from his early pop-up days, Keegan manufactures and sells his own line of products that come straight off the beloved Woon menu. Frozen dumplings and various sauces, rice, and teas are all offered for purchase on the website in perfectly Woon packaging. There's even an interesting selection of beer and natural wine sold by the bottle. Most importantly, you can grab a package of their "Homestyle Chewy Noodles," the delicious, par-cooked noodles that brought them notoriety in the first place. To this day, they're still what customers order the most.
"Stir-fried noodles are usually at the back of the menu at Chinese restaurants. We took what was an afterthought and put it in the forefront and made it special."