Images by
Miriam Bribiesca
A strip mall, a swap meet, a food hall. Fermentation, farmer friends, and heritage seeds. How Kwang Uh and Mina Park have brought some of the most considered Korean food to L.A. by going with the flow.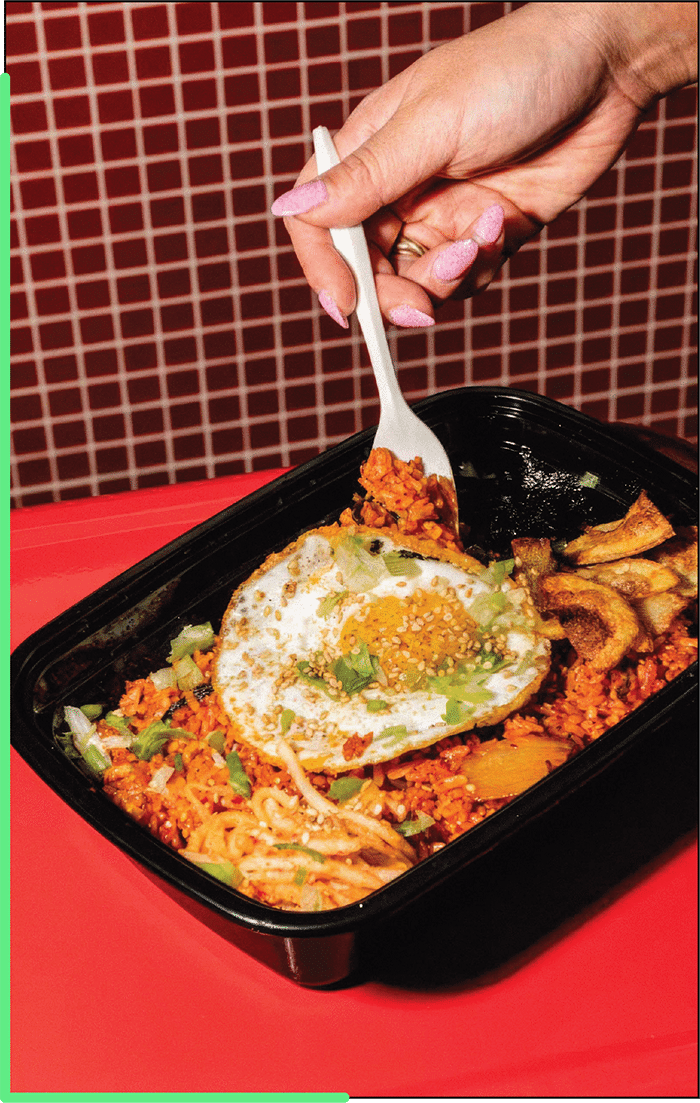 Inside the well-trodden aisles of Grand Central Market, in Downtown Los Angeles, the sign for Shiku is drenched in a red neon wash and propped high among an illustration of three pigs—symbols, in Korea, of fertility and wealth. At the counter lies immaculately installed menu boards that offer standard doshirak, or packed meals. The soy-marinated short rib sounds perfect, at least until you catch a waft from the deep fryer of pyogo mushrooms being crisped to a golden yellow. Your eyes then wander to the large jar of "kimchi'd corn" that comes with the bibimbap special. The best plan of attack is to order everything, sharing the resplendent vegetables and savory fermented sauces among friends.
Shiku's origin story is as compelling as its food, offering a case study in how the couple behind it, Kwang Uh and Mina Park, operate by instinct and through feeling, taking what might best be called a seasonal approach—not just to food, but to the business of serving it. By navigating the restaurant industry this way, they have been able not just to tolerate its notoriously fickle nature, but to thrive by being open to what comes and adapting as needed.
When they first met, Uh was operating Baroo, the freestyle fermentation restaurant that turned an East Hollywood strip mall into a holy ground for food trend hunters; Park, looking for a transition after working in finance, became a partner. A year after it closed, in 2018, they reopened it as Baroo Canteen inside Union Swapmeet, a nearby indoor market, initially thinking of the venture as a fast-casual stopgap while they searched for a brick-andmortar to showcase a more refined vision of Baroo. But the new environment was transformative. Though they'd already earned their cred in a quintessentially L.A. way—as an unassuming storefront that lead to a James Beard nomination and national acclaim—working out of Union Swapmeet, a neighborhood institution since the 1980s, connected them to a deeper artery of the city, and themselves.
Though Shiku, in its aim for accessibility, is not a strictly farm-to-table operation, it is informed by an understanding of the history of Asian farming—and a desire to chart a new path.
"We aren't originally from here," says Park, who, like Uh, grew up in Korea, "so when we were at the Swapmeet, we both thought, 'Wow, this feels like L.A.'" Among the 70 vendors was a perfumer who worked with her granddaughters and became a Baroo regular, along with a Korean jewelry shop owner who dispensed sage, unsolicited advice on parenting to Park, who was pregnant with their first child. "We were so inspired by the people we were surrounded by, by the supportive community."
Indeed, there's a rich history behind indoor markets in Los Angeles. After the city's bleak years of racial covenants and redlining neighborhoods, they became critical community spaces for Black, Brown, and Asian Angelenos who wanted to be amongst themselves without the meddling of city and law enforcement agencies. Today, sadly, indoor markets are diminishing in a town overripe with new development; Union Swapmeet was razed at the end of 2019, marking the end of Baroo Canteen just 10 months after opening and before Uh and Park had found a permanent location for Baroo.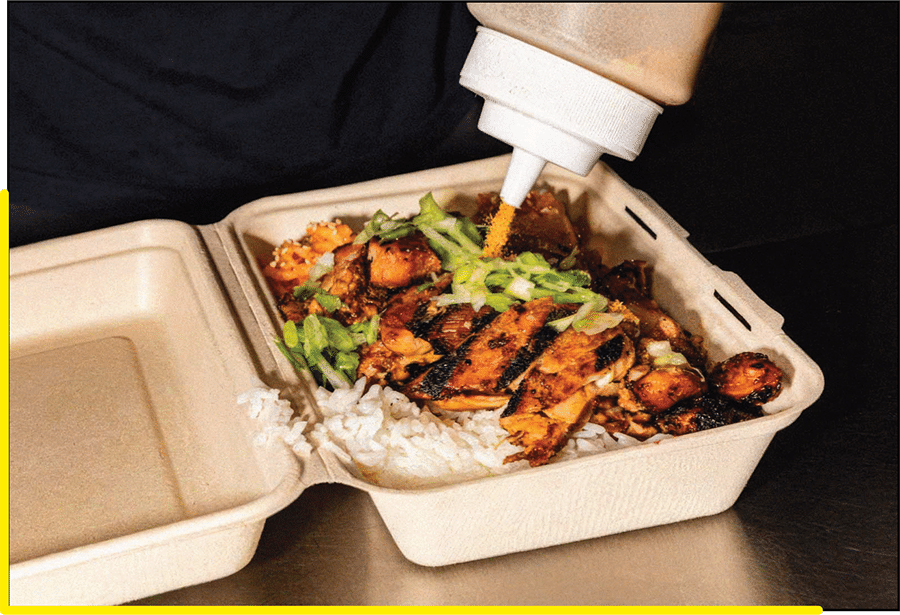 The forced closure offered a moment of pause. With parenthood on the horizon, and after running a conceptually-driven restaurant like Baroo for five years, Park and Uh were ready for something new. When they were approached with an opportunity to cook in another of the city's iconic food halls, the Grand Central Market, it seemed like the natural extension of their journey. Thus Shiku was born.
There's a double meaning to Shiku. In modern Korean it means family, but in hanja, the traditional Korean writing system that borrowed from Chinese characters, shiku represents the people with whom we share food. The word is sensual and belly-warming, capturing the guttural feeling of connecting over the things that complete us: the animals that roam on pastures, the wild mushrooms that burst from soil, and the nourishing greens ready to be plucked, blanched, and seasoned into namul.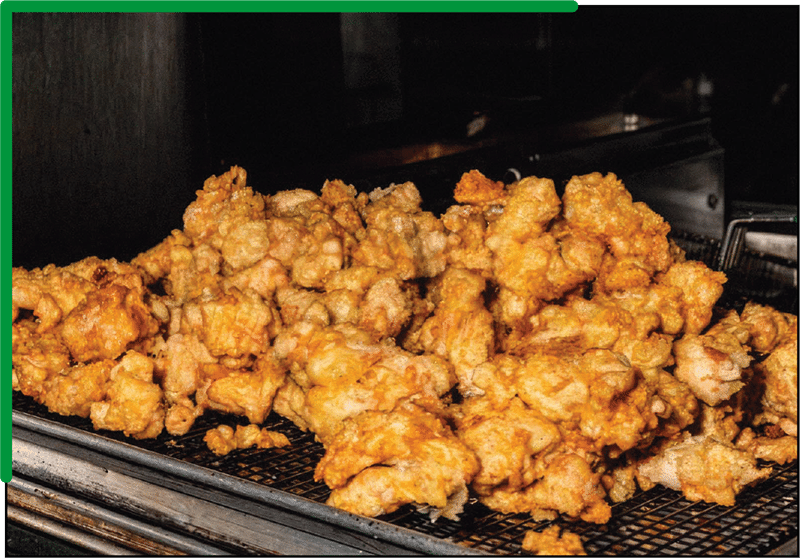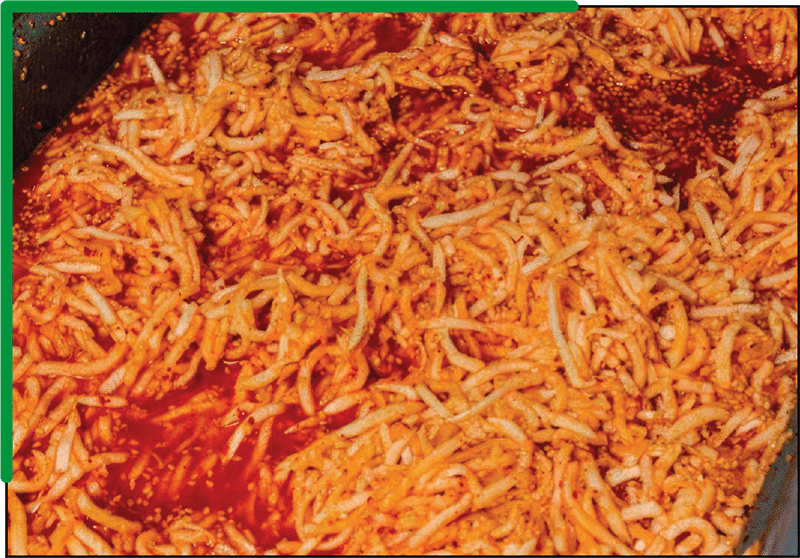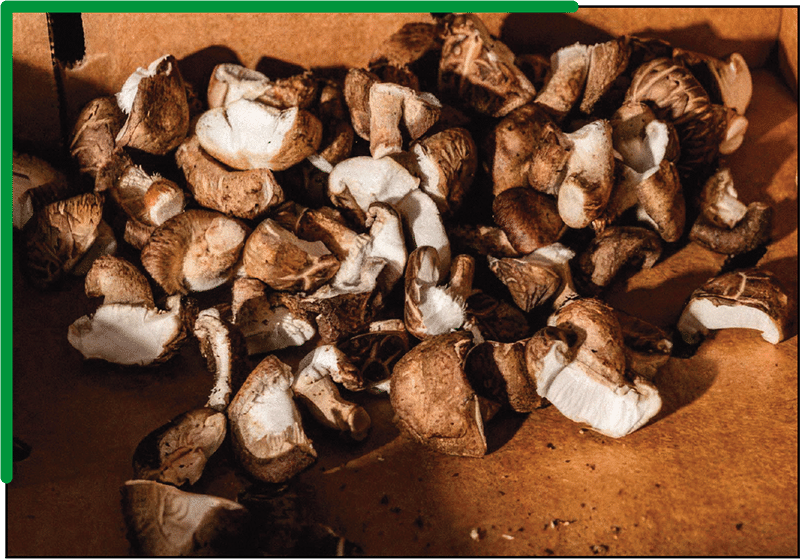 Uh and Park, two practicing Buddhists, ensure that Shiku embodies every facet of the word. The couple met in 2016, at a temple in Korea, and vowed to keep each other connected to what they view as their purpose in cooking—nourishing communities, preserving history. Park, the more extroverted of the two, uses social media to communicate their approach, including Shiku's principles. "For this moment, when all I can think about is food that comforts the pandemic-weary soul, @shikulosangeles seems like the perfect concept," she wrote when they opened, articulating their shift to down-home cooking. "Homey comfort food that harkens back to childhood days, simpler days." (Fitting words given that their son, Taehoon, learned to walk at Grand Central Market while they were conceiving Shiku's menu.)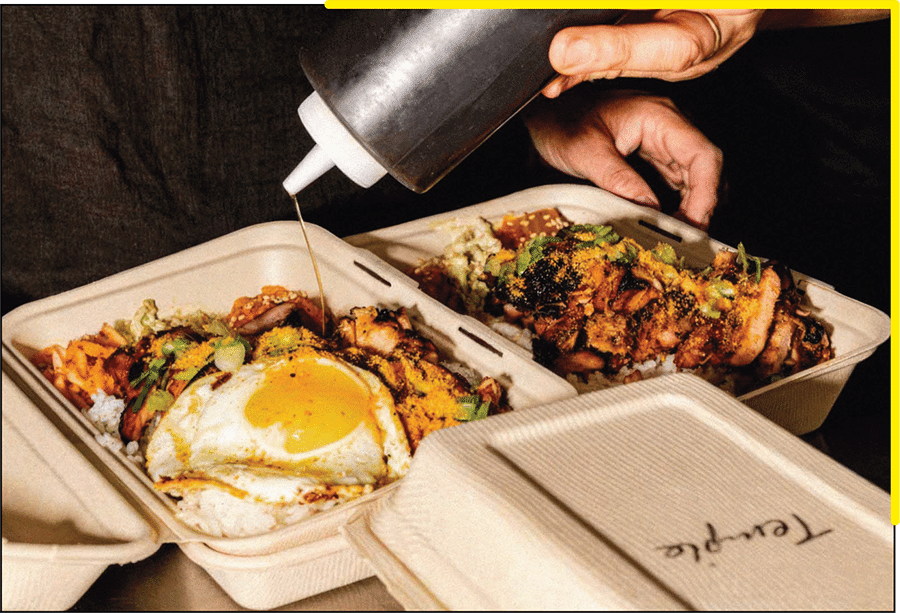 With its focus on soul-soothing food, Shiku has also served as a respite for Uh from the conceptual path he had been on, beginning before Baroo with years of tutelage and training at Michelin-starred restaurants like Copenhagen's Noma and Piazza Duomo in Italy. He finds bliss in making meals that offer a link to his most elemental roots. Still, he is quick to point out that Shiku's offerings are not traditionally Korean, but inspired by their multicultural neighbors and cooked for the workers and tourists who pour through the market daily.
"It's really difficult to be traditional in a different country," he says, "so we try to combine Grand Central Market's environment and atmosphere into the food."
What those customers experience as quick, homestyle food, however, is for Uh and Park part of an ongoing inquiry into their heritage—one they explore with a circle of friends who have an intimate, tactile knowledge of the cuisine they celebrate. One of those friends is Kristyn Leach, a Central Valley farmer and leader behind Second Generation Seeds, a project that preserves ancestral Asian crops and advocates for Asian farmers. "I'm part of a generation of farmers who are returning to agriculture after skipping a generation or so," says Leach, who was born in Korea and then moved to the United States as an adoptee. "We're also interested in farming and seeds as a part of our Asian American heritage."
In 2020, Leach became friends with Uh and Park after reading Park's considered reflections about food on her Instagram. As the couple conceived of Shiku, Leach became something of a counsel—teaching them, for example, about the worsening conditions in Korea's food system brought on by the country's economic restructuring during the 1980s. At the peak of the Green Revolution, Korea's rich agrarian history was closely watched by multinational corporations, with powerhouses like Bayer consolidating small-scale seed growers into monolithic entities. Under the guise of feeding the masses, farmers endured a staggering loss in job security as the commercial seed industry jeopardized the DNA of native fruits and vegetables.
Kwang Uh and Mina Park, operate by instinct and through feeling, taking what might best be called a seasonal approach—not just to food, but to the business of serving it.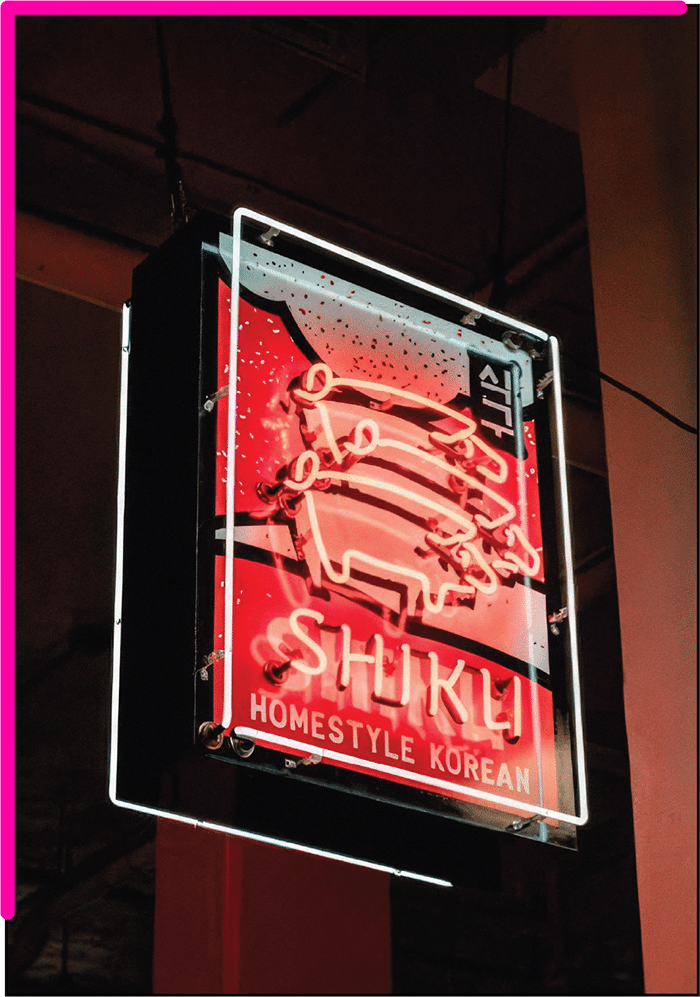 Meanwhile, in America and overseas, Asian farmers and seed growers have faced a different set of challenges. "The pressure on us is different because of the exclusion from a lot of rural areas that have persisted in being predominantly white," says Leach, noting that many young Asian growers in Central California settle for peri-urban areas because their ancestors' lands were lost by way of Japanese internment and other prohibitive policies.
Though Shiku, in its aim for accessibility, is not a strictly farm-to-table operation, it is informed by an understanding of this history—and a desire to chart a new path. "We try to balance between our values on preparing food and also being realistic about what people like when they are here," says Uh, who now creates specials using vegetables from Asian-owned seed growers like Leach. For her part, Leach sees Uh and Park as "culinary detectives" who, at Shiku, translate the challenges and plights of the agricultural industry that she thinks would otherwise alienate casual diners.
"They're connecting on a visceral level with a broader audience," she says. "Because when you eat something delicious, you retain that story differently than when you talk to a farmer about seed consolidation and corporate menaces." These days, with Shiku in full operation, Uh and Park have time to think about the reincarnation of Baroo. Between the lunch and dinner rushes, Uh can be found experimenting in the Baroo way, often with such intensity that Park jokes that she has to remind him to come home. In the family's Spanish-style apartment in Koreatown, Park's interest in seed sovereignty and biodiversity has taken the form of a small container garden—perilla leaves, mustard greens, chili peppers—which she imagines could become integrated with Baroo in the future. "Gardening in L.A. is surprisingly so easy," she says, "but my challenge is that I don't have enough space for what I want to do."
The duo hopes to secure a new location for Baroo by the end of 2022, though for now it's kept alive at Shiku, in the hibernating form of what they call the Baroo Pantry: a packaged-goods business that offers items like maesil chung, a fermented plum syrup made by Uh.
"If you're positive, everything is connected," says Uh, with a Buddhist calm, "and so everything becomes inspired."