Richard Ortega's Maiz Project goes beyond serving Miamians true Venezuelan arepas. By invoking memories of his abuela's cooking, he hopes to show that traditional family recipes can be the start of something bigger.
When Miami chef Richard Ortega decided to create The Maiz Project, it wasn't to follow some foodie fad or create a new niche of unexplored culinary ingenuity. It was a desire to restore a childhood memory using his favorite dish. Ask Ortega to share the ingredients needed to recreate this memory, and you'll find its all the elements of his abuela's cucina.
The first essential ingredient would be the terroir of his hometown, San Carlos, Venezuela, a pastoral region west of Caracas at the edge of the Los Llanos plains. It was small enough that he could drive from one end of town and straight out again in five minutes, passing the small farms dotting the landscape along the way.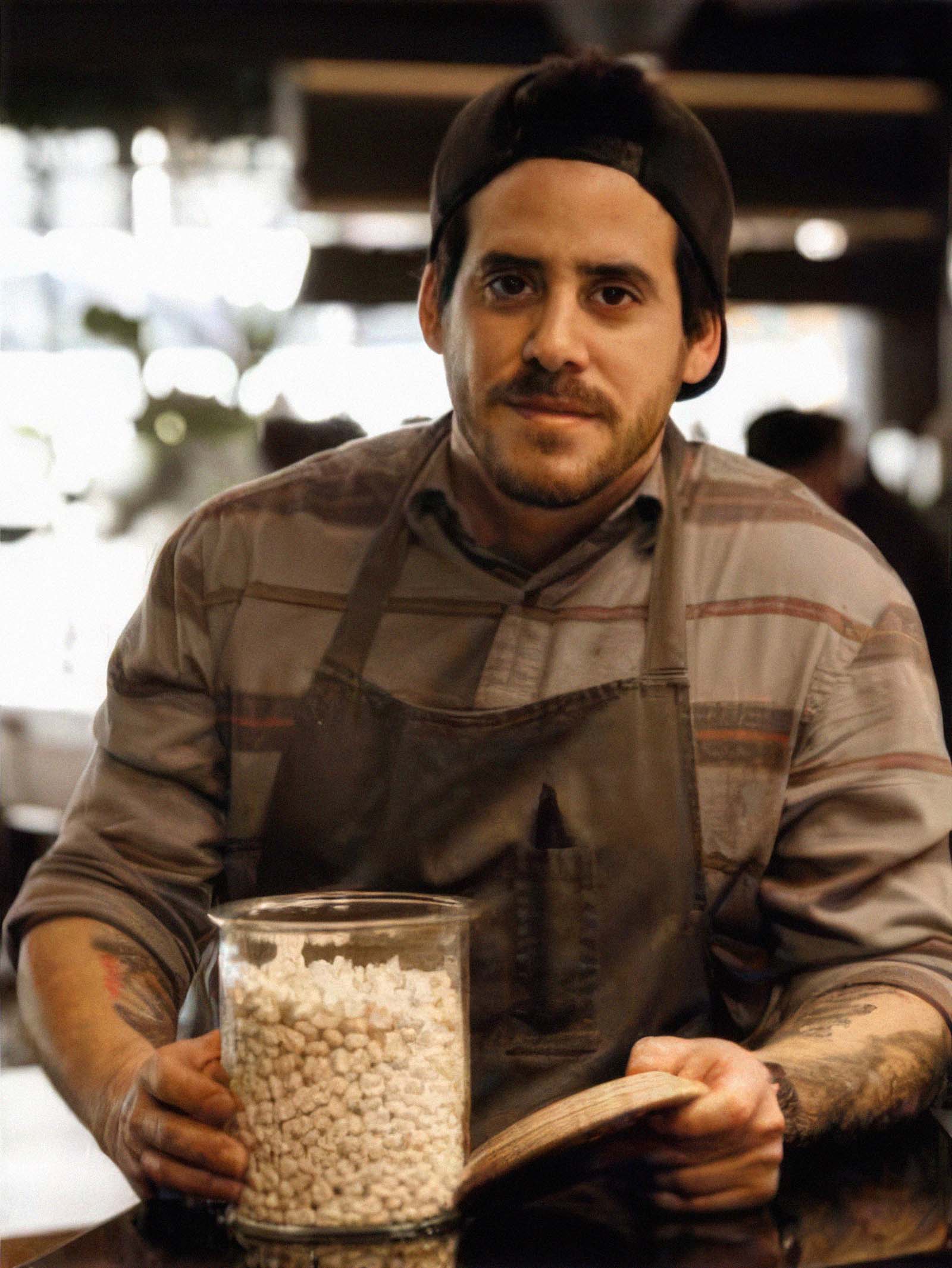 The second ingredient would be maiz, or corn, the foundation of almost every Venezuelan meal, an heirloom variety that, when cooked, tasted of the surrounding land from which it grew.
And the third would be the family hearth, a stove of hot embers derived from fresh-cut wood, that would impart its smoky essence into every meal she cooked.
It was in that cucina where Ortega fell in love with food. There was reverence for sourcing the locally-grown ingredients, a daily rhythm to each items' preparation, and a love made tangible with every bite. And today, you can taste this memory through his project's singular focus: the arepa, a crispy corn cake that serves as a vessel for a multitude of fillings.
Ortega calls his restaurant a "project" because, up to this point, that's exactly what it's been, an evolving progression that's taken him from pop-up tents in parking lots to weekend markets and—presently—a stand in Miami's Time Out Market, a journey made possible by the traditions passed on by his father's mother. "She would take me each day to the market to get what was needed for the day's meal. No matter what she was preparing, the one thing she always brought home was corn," says Ortega. "Then she would cook for us arepas. It was our bread, what we eat every morning, for a midday snack, or again for dinner."
Her arepas might be stuffed with chicken repurposed from the previous night's dinner, a fried egg with butter, or a single slab of his favorite cheese, a salty llanero. What was constant was his abuela's task of crafting the arepas, an infinite loop on repeat. It would start the day before, grinding maiz with a pilón—a wooden mortar and pestle—to expose the core of each kernel. From there it was boiling, steeping, and resting for a flour that would be ground, mixed, and seasoned just before cooking over the open flame of the parrilla.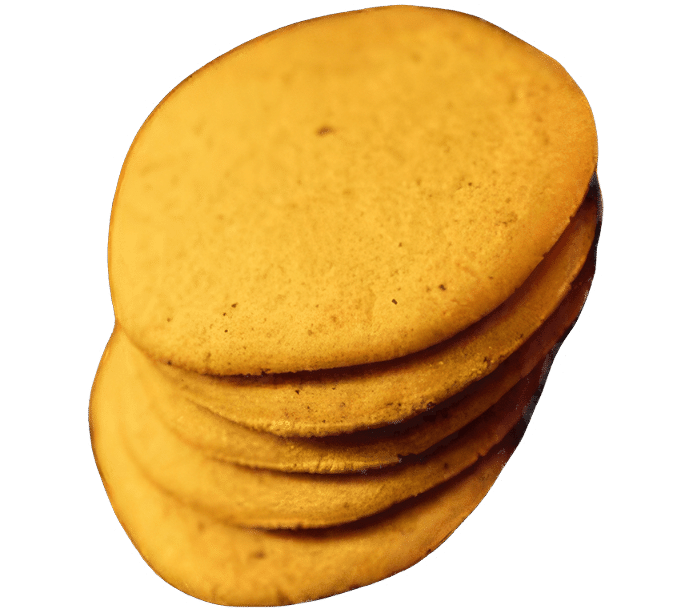 "As a child, I didn't appreciate the arduousness of it all," he says. "I only knew that it was comforting to watch her. And I always had a full belly."
Today, the chef does the same dance preparing food for The Maiz Project, sharing his grandmother's devotion to family, home, and tradition with hungry Miamians.
Ortega has come a long way from the countryside of San Carlos to the diaspora of Miami's growing culinary scene. The road to recreating his past has taken him from culinary school in Lima to the kitchens of Bogotá. When he moved to Miami in 2016, the chef's skills landed him in the kitchens of some of the area's most prestigious restaurants, from Brad Kilgore's Alter and Carlos Garcia's Obra Kitchen Table to Michelin's Bib Gourmand nod La Natural and the Los Félix, a one star recipient to emerge from the city's inaugural ratings.
He might still be there, if it hadn't been for COVID. It was in early 2021, while cooking at La Natural, amid the confusion of those early days emerging from the pandemic, that Ortega says he reached a point of ennui. His passion for cooking—dreaming up one-off specials, the calamity of a busy dinner rush, the gratifying feeling of feeding someone—was waning.
Meanwhile, all around him, culinary ingenuity was afoot in Miami. His colleagues, a vast populace of jobless chefs, were in a similar state of despair. Propelled by the need to create, and the downtime to follow their passion, some were taking matters into their own hands. "I thought, 'If I can do great things for all these restaurants, then why not do something for myself?' What do I have to lose?" says Ortega.
Ortega debuted his arepas at J. Wakefield Brewing, a known hub for up-and-coming chefs eager to test the waters as would-be restaurateurs. Following in the footsteps of popular pop-ups before him, he assembled a makeshift kitchen on an overcast Sunday in the brewery parking lot.
Ortega calls his restaurant a "project" because that's exactly what it's been, an evolving progression that's taken him from popup tents in parking lots to weekend markets to a stand in Miami's Time Out Market.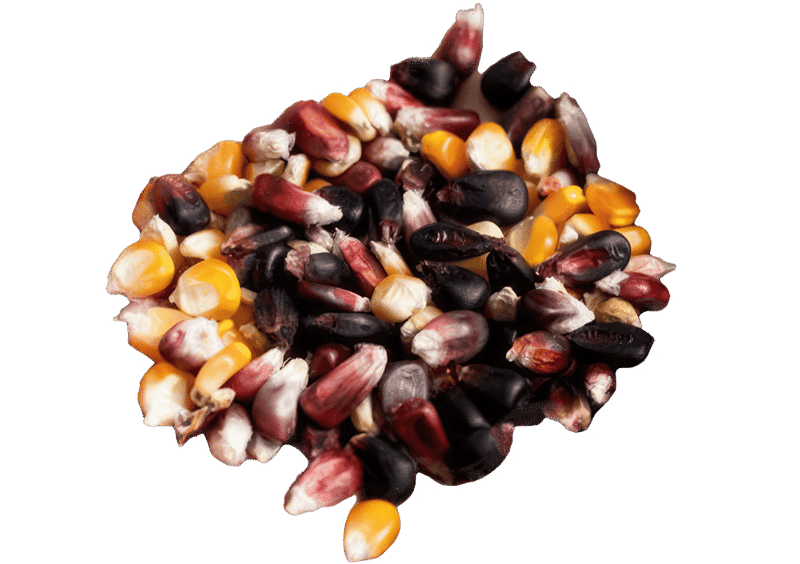 As customers began to line up, he remembers the angry black clouds above him letting loose a veritable downpour. "It was a disaster," he says. "We didn't have a tent. Everything was soaked. But I came to cook, so we found a way to keep going. I had made enough dough for 100 arepas and I thought, 'If I sell even half, I'll be happy.'"
That day, he sold out, and it wasn't long before 100 arepas wasn't enough to meet the ravenous demand. The sudden success took Ortega by surprise, making for a swift learning curve. Fueled by his project's positive reception, he met the challenges head-on, throwing himself into the pop-up life and navigating the challenges of transient outdoor restaurant service along the way.
The weather was a constant worry—would it be too hot, too wet? What was the best way to store and transport food without refrigeration? What equipment makes for an easy setup while delivering the perfect cook time? Could he find staff that could commit to an erratic schedule? How best to prep for fluctuating crowds? There was the good: he could deliver customers his handcrafted arepas with little investment, no overhead, and the freedom to pop-up wherever demand for The Maiz Project's menu took him. The downside: it was quickly becoming a full-time job simply preparing for the unknown.
It didn't take long for whispers of Ortega's arepas to make their way to Smorgasburg Miami founder Gaston Becherano, who was on the hunt for local chefs that could provide the city's new open-air market with Miami's most inspiring fare. When it opened a few weeks later, in March 2022, Ortega found ease committing to the market's Saturday-only schedule. Steady crowds and plenty of Wynwood foot traffic meant he was soon selling upwards of 300 arepas a day from a short and sweet menu of flame-cooked sandwiches.
As demand grew, so did the chef's aspirations, and again the desire to bring his food to a larger audience. Yet another steppingstone presented itself in the form of a stall at Time Out Market, the South Beach food hall where a number of local chefs have gone to do the same. "It was an amazing experience at Smorgasburg, learning the ropes, growing the business," says Ortega. "It opened a lot of doors and allowed me to grow into the Time Out space so that more people can understand what it is I'm doing with this project."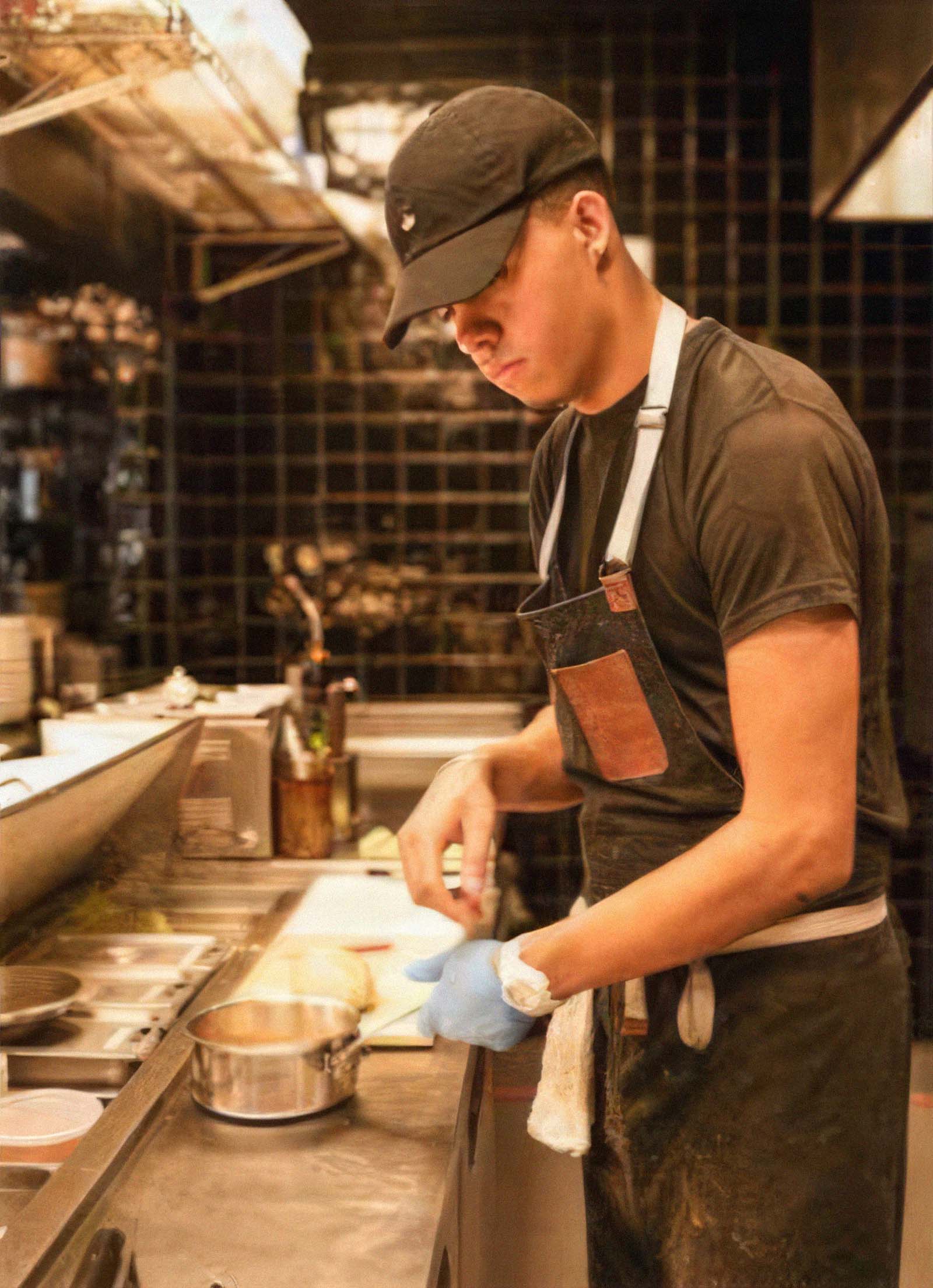 To truly understand Ortega's project is to understand the origins of the arepa itself. Before the creation of premade arepa mix, Venezuelans prepared meals using from-scratch traditions. Like Ortega's abuela, the routine was a daily practice, a time-consuming sequence of steps that spanned days. When it was time to eat, a thick disc was hand-shaped and cooked as needed on a hot budare, then stuffed with whatever ingredients you had on hand.
It wasn't until the 1950s, when Venezuelan engineer Luis Caballero Mejías created a precooked cornmeal, masa harina, that things began to change. Almost overnight, the process of making the daily arepas went from a never-ending chore to a single step: just add water. No more grinding, no more waiting. And, according to Ortega, no more depth of flavor. "Today, 90 percent of people are using prepackaged masa harina, and cooking on special griddles," says Ortega. "That's not the arepa I know. There's no variation. No character. No love."
"I thought, 'If I can do great things for all these restaurants, then why not do something for myself?' What do I have to lose?"
For Ortega's Maiz Project to fulfill its mission—to showcase a traditional cooking technique that shines a light on the forgotten culture of Venezuelan cooking—he first had to learn the art of nixtamalization, the process of turning maiz to masa.
At Time Out Market, it begins, of course, with the maiz. Ortega sources corn from small farms in Mexico because of the wide assortment available and consistently high quality of product, choosing single origin heirloom varieties, each with a name, a provenance, and story all their own. Blue, red, yellow—the type of corn is always changing—allowing the experience at the Maiz Project to do the same, no two batches of masa alike. Where some result in a soft, creamy dough in a matter of hours, says Ortega, others are harder to break down, yielding a rough and grainy texture.
After cooking and grinding, the resulting meal is mixed with water and salt. Then, like a baker leavening dough, it rests—anywhere from 12 to 48 hours. The time is dependent on many variables, from the starch content of the corn to the mercurial South Florida climate. It's this process that allows the flavor of the corn to pronounce itself in sweet, sometimes umami-like notes, one Ortega believes best evokes Venezuela's lost arepa culture, and the same he endeavors to recreate.
Like the arepas, the menu at Time Out Market is always evolving, ingredients taking cue from what's available, in season, and local. But one thing that will never leave the menu is Ortega's steak arepa. A best seller, it's a simple homage to the chef's hometown restaurant that served a dish of chimichurri steak, a celebratory meal his family would order for special occasions.
At Time Out, the chef prepares it with long, thick-cut ribbons of meat he layers along with a fragrant house-made chimichurri. It's met with a fat slice of queso blanco, all of it stuffed into grill-marked arepas delivered hot from the flames that—like his abuela's cucina—laces every bite with a hint of char and smoke. The meal may seem fleeting, a simple sandwich that can be devoured in just a few bites, but it becomes transportive once you know Ortega's story.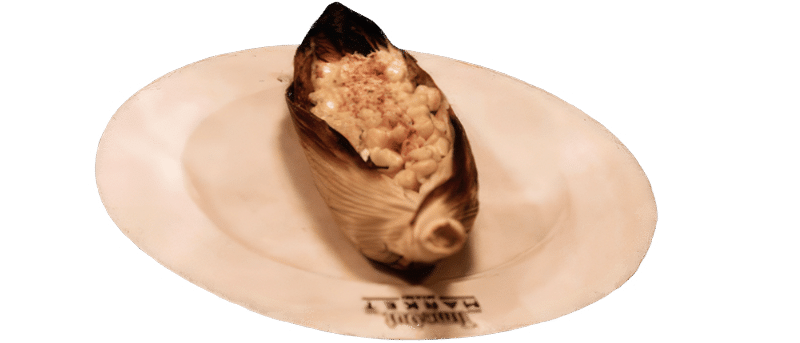 "My dream, my goal, has always been to share the nostalgia of my childhood with Miami," he says. "To watch as this project grows, little by little, into a small restaurant, has been an amazing journey, and one that I hope inspires others to share their own memories."
"I thought, 'If I can do great things for all these restaurants, then why not do something for myself?' What do I have to lose?"