Building a loyal following around a lesser-known cuisine in one of America's foodiest cities is not for the faint of heart. At Jasmine Market & Deli, a mainstay of Burmese comfort food, they make it look easy.
Kyaw Than and Mimi Win first met at Jasmine Market & Deli, a staple for the Westside's Muslim Burmese population, back in 2008, when Kyaw wandered in for some food. He noticed Mimi, who was then working in the kitchen of the Culver City restaurant, and soon they were a couple. A year later, they became husband and wife. Not long after marrying, when the family that founded Jasmine decided to retire, Kyaw and Mimi both had the same thought: "Why don't we just take it over?" Mimi, who learned to cook from her parents, was still working there part time, and Kyaw grew up with his parents running a teahouse back home in Mawlamyine, along the southeastern coast of Burma. It all seemed to make sense, their dream of running a business together becoming a reality where their romance took root—a history that, today, infuses Jasmine with its singular and infectious warmth. The first time you walk through the doors you feel like you've been going for ages.
I discovered Jasmine on an early date with my now husband, Ian, when he asked me if I wanted to try a Burmese spot near his house. Looking back on it, this may be the main reason why I continued to date Ian. His knowledge of good food made by good people had my interest piqued. Having grown up in Los Angeles with a love of all kinds of food, I was surprised that I couldn't think of a single signature Burmese dish. There were familiar sounding platters (beef curry, chicken tikka kebabs) and ingredients (ginger, turmeric) that I knew from Burma's neighboring countries of Thailand, China, and India, but I soon came to realize that the variations in spices gave Burmese food a savory depth of flavor all its own.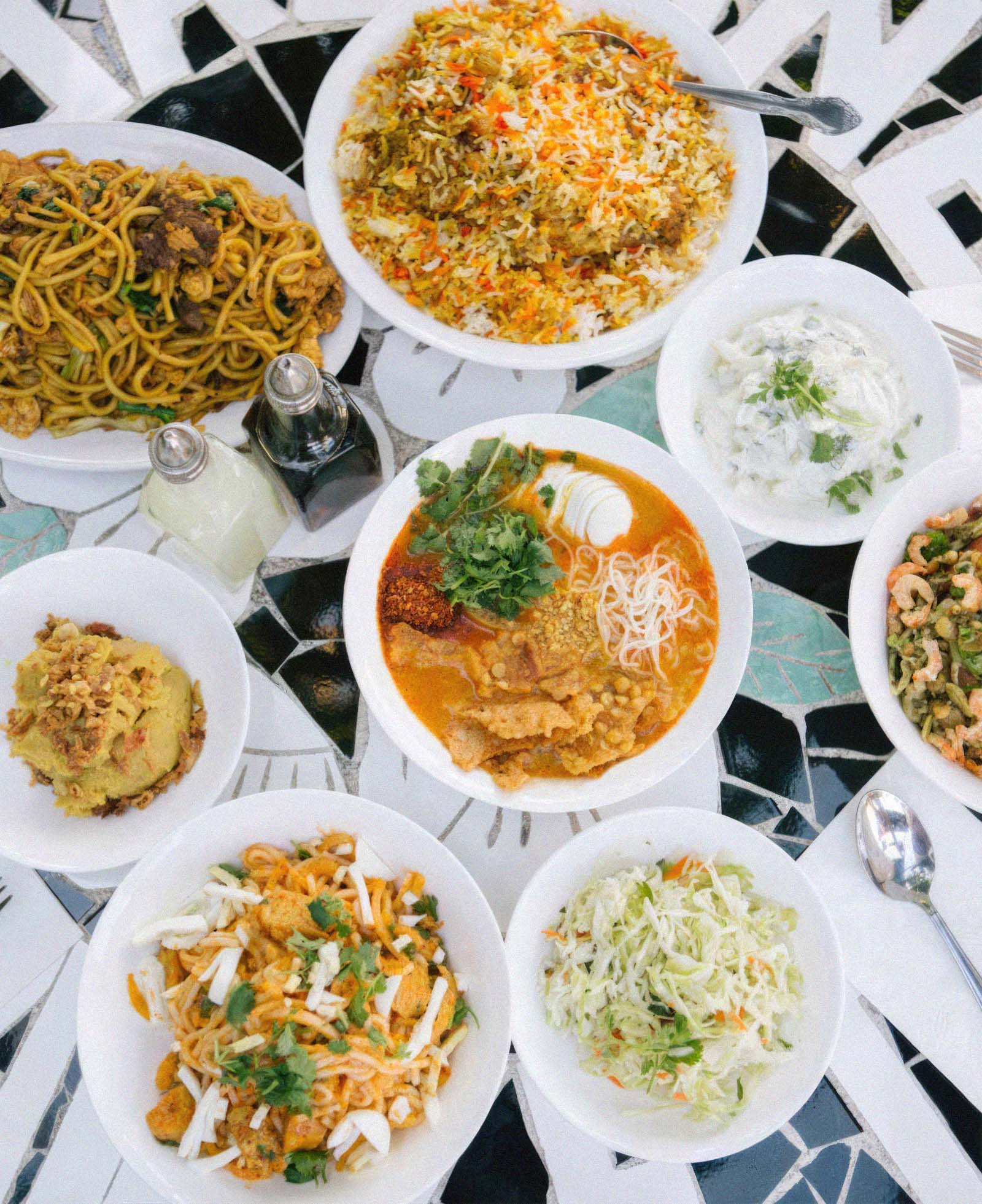 Before Kyaw and Mimi took over Jasmine, the restaurant served Burmese cuisine only on weekends, with the weekday menu focusing more on betterknown Indian dishes. The couple changed this, believing that Los Angeles was ready to fully embrace dishes like mohinga, the funky lemongrass fish stew that is Burma's national dish, and pan tay kau swe, a fried noodle with chicken curry sauce. All of Jasmine's food is served to be shared, from the chicken biryani to the beef-filled, crispy keema, the spice level always memorable but never overbearing. Though most Burmese families cook at home, Jasmine has fostered a community of regulars, many from Burma who come knowing that the same dishes they may make in their own kitchens come out at Jasmine's feeling special. But where does that special feeling come from? It doesn't hurt that the naan is made fresh in a tandoor—but, for me, it's the joy of having good food made for you knowing the recipes were passed down through generations.
Before Kyaw and Mimi took over, Jasmine served Burmese cuisine only on weekends, with the weekday menu focusing more on better-known Indian dishes. The couple believed Los Angeles was ready to fully embrace their country's flavors.
Along with running their restaurant, where Kyaw works the front of house and Mimi is the head chef, they recently bought an Asian market in Alhambra, aptly named Asia Supermarket, all while raising three well-mannered boys aged 12, 10, and six. "It's fun, but we have long hours," says Kyaw. "The two big kids usually go to their friends' houses now and the little one is usually here." Home and work life blend together to keep everything running. All of the boys have taken to cooking and can manage to make dishes on their own. Still, even with this natural inclination, Kyaw doesn't think the boys should take over the family business, at least not in a way that mimics what he and Mimi juggle daily. "They can run it as the owner, but I'm not really into them working in the kitchen," he says. "It's hard work, especially when you have a family."
Seeing this family-run business is deeply familiar, transporting me back to my childhood, when I spent countless hours trying to entertain myself, and not cause trouble, in the upholstery shop run by my parents, who immigrated from Korea. Different countries, different stories, yet a relatable foundation that for me—and, I'd imagine, others like me—is as nourishing as their peas and naan, the one dish, exquisite in its simplicity, that I refuse to share, and turn to when I'm feeling unmoored.
Kyaw believes that when you're feeling a heaviness inside of you the solution is to eat something that gives you contentment. And Jasmine does just that.